LEMON POWER PART

7
YELLOW PENCIL SKIRT, GREEN CROPPED JACKET AND WHITE ANKLE BOOTIES
If lemon's curd can be yellow, a skirt can as well. This cotton mix pencil style skirt is trimmed with green at the hemline. If Vincent van Gogh, great admirer of the yellow colour only could see! The placed pockets are equally trimmed with green and punctuated by golden-toned buttons to pair with the green and black blazer for a fun take on power suiting.
The jacket is unmistakably from a hallmark in fashion, the cropped silhouette in two-tone green and black palette, trimmed with black at the edges. I combined the outfit with classic white ankle booties in smooth leather, set on dangerously thin stiletto heels and a black leather clutch.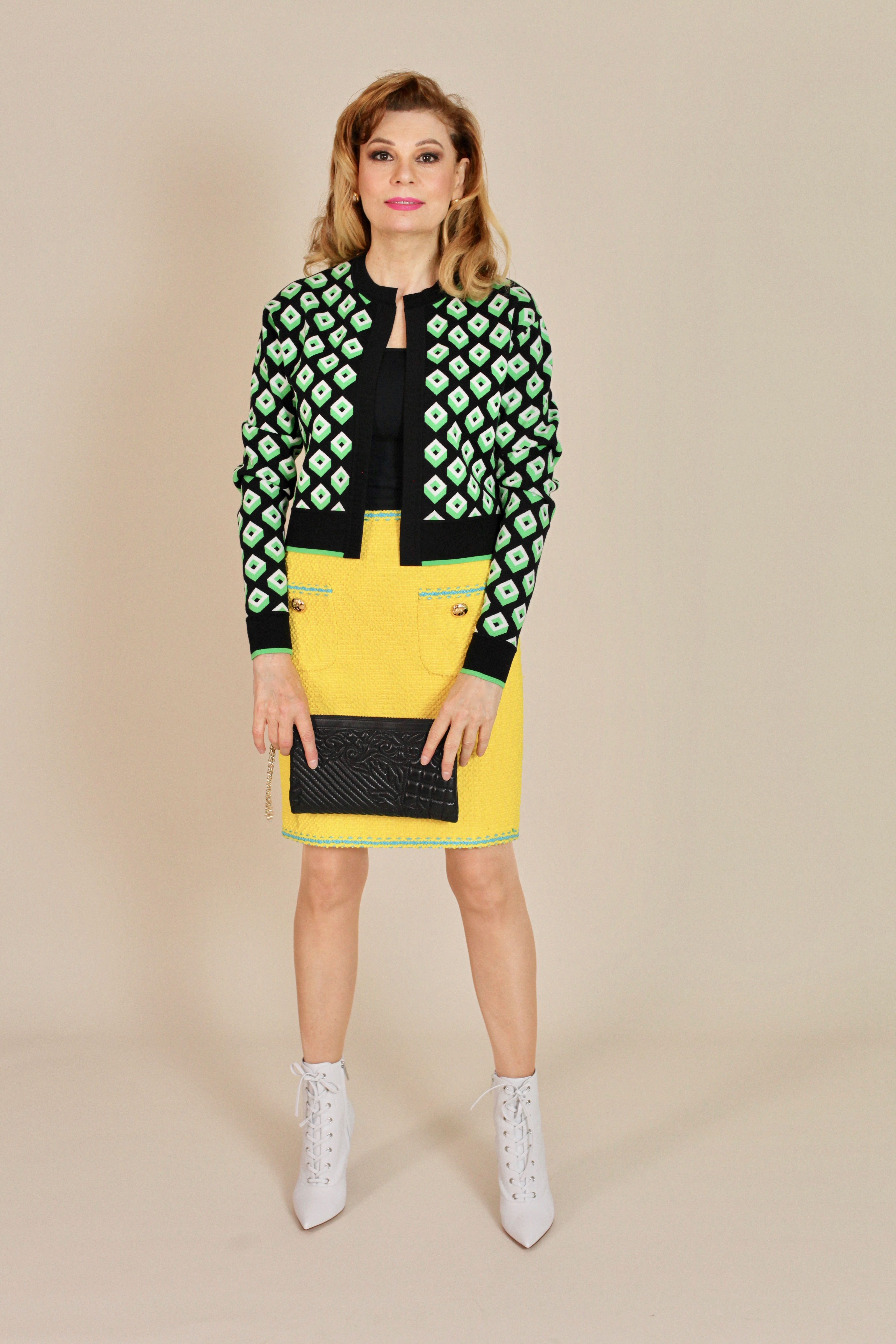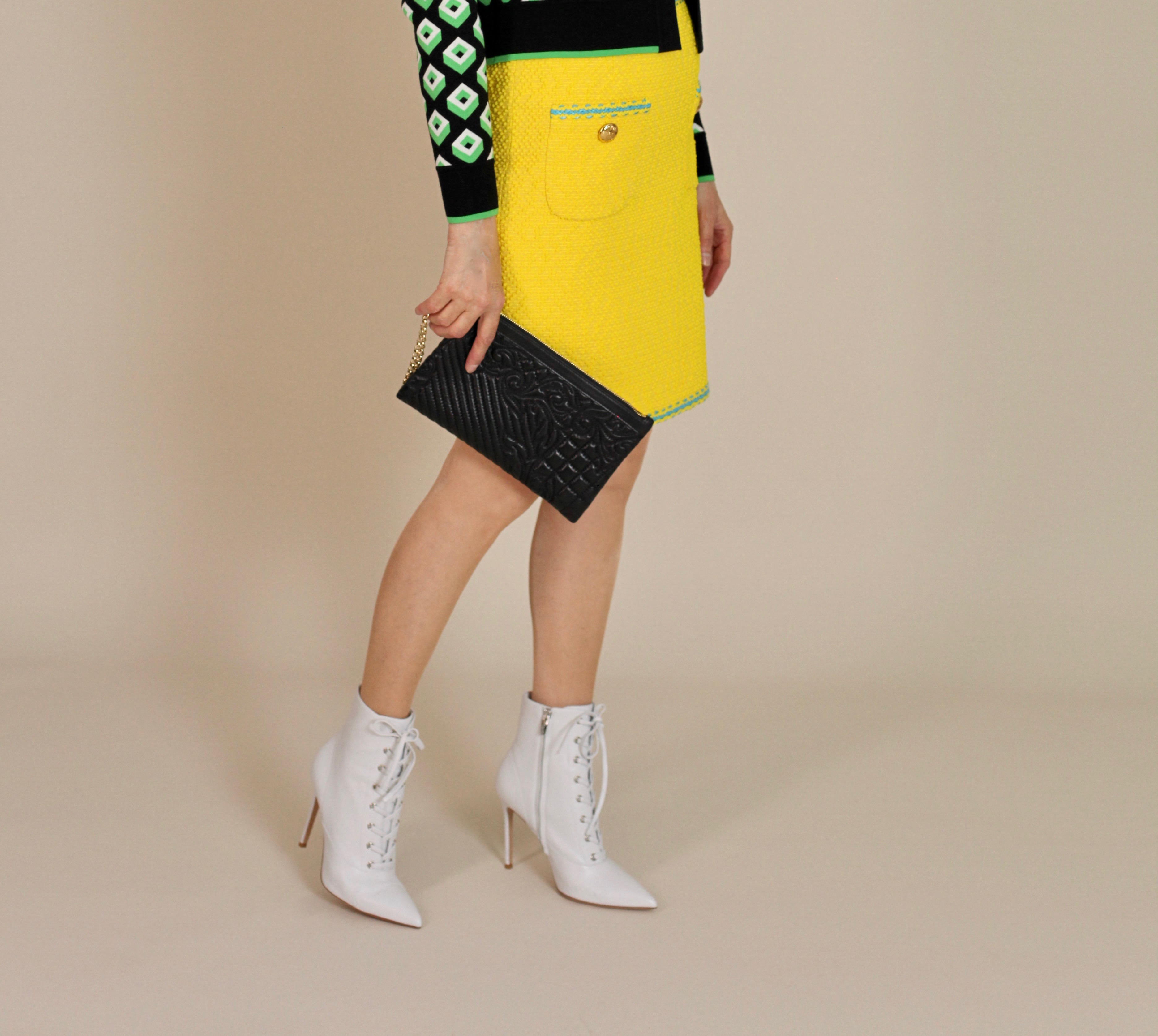 Vincent van Gogh
The painter Vincent van Gogh was a particular admirer of the colour yellow, the colour of sunshine. Writing to his sister from the south of France in 1888, he wrote, "Now we are having beautiful warm, windless  weather that is very beneficial to me. The sun, a light that for lack of a better word I can only call yellow, bright sulfur yellow, pale lemon gold. How beautiful yellow is!" In Arles, Van Gogh painted sunflowers. He used the traditional yellow ochre, but also chrome yellow and cadmium yellow.
Vincent van Gogh painted during his short life, he was only 37 when he died, 860 oil paintings and more than 1,300 watercolours, drawings and sketches. According to his biography, it was his mother who transmitted the love for nature, drawing and watercolours to her son. 
He started working very early, at an age of 15 and it is interesting to note that his first job was at his uncle's art dealership firm. He was only 20 years old, when he was transferred  to a gallery in London. That's where he discovered the English culture, its art galleries and literature. Van Gogh was also a real polyglot, he spoke fluently, beside his native Dutch, French, German and English.
Reading van Gogh's biography, I found it amazing that he had never received formal art training. He was, so to say, an autodidact. His first paintings were rather sombre, like "The Potato Eaters", that shows the peasant's life in  the 19th century. It is only when he moved to Paris and later on to Arles in the south of France, that his work gets colourful.  It is also during this period that he painted the famous "Sunflowers", we all know. 
When doing my research for this article, I realised that van Gogh was also influenced by the Japanese art, he studied Eastern philosophy and dreamed to travel to Japan. In 1887, he painted the  impressively colourful "Courtesan" which can be admired in Van Gogh Museum in Amsterdam.
Van Gogh did not find success with his works during his lifetime, he lived in poverty, alone and suffered from depression. Today, van Gogh's paintings are considered to be the most expensive in the world.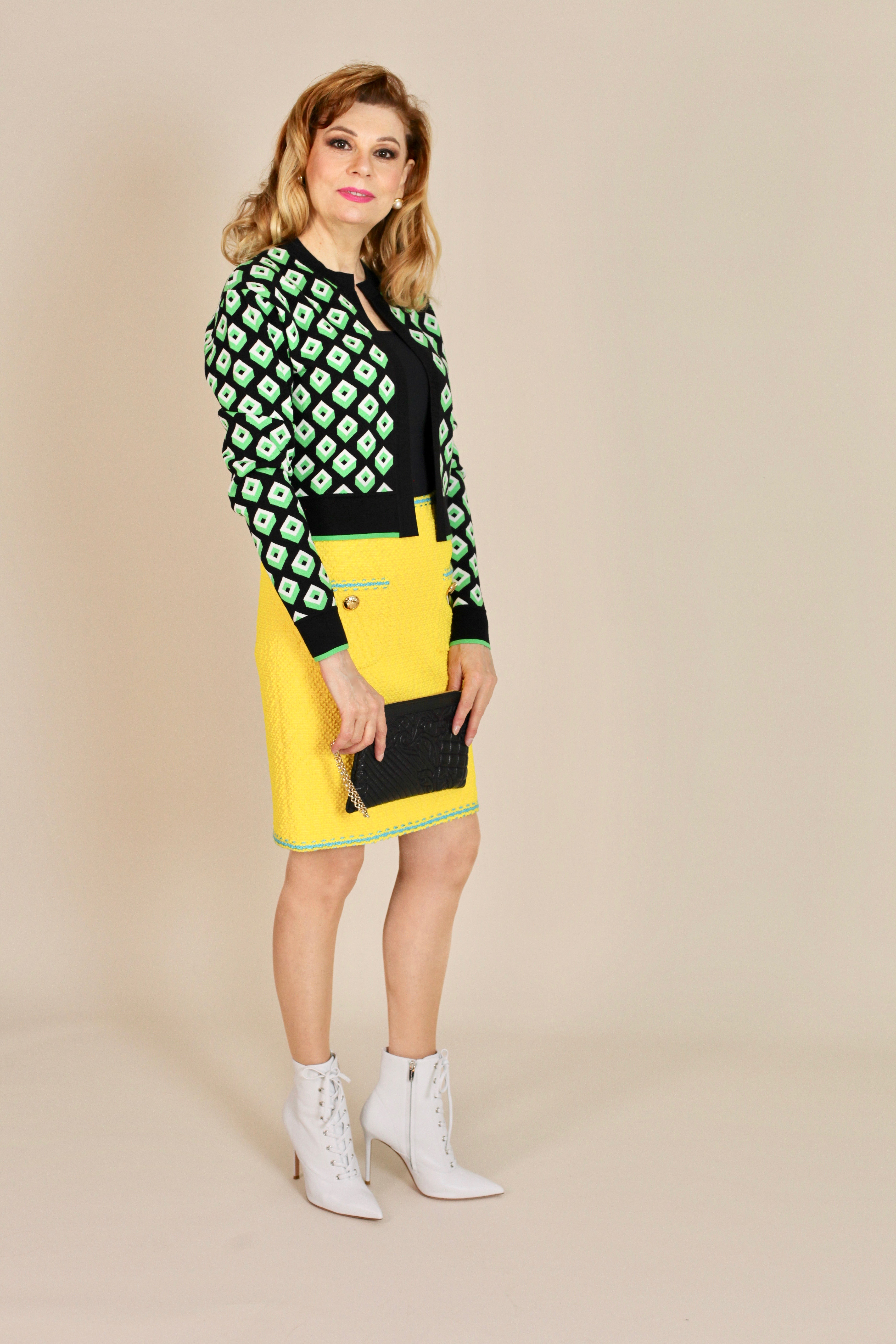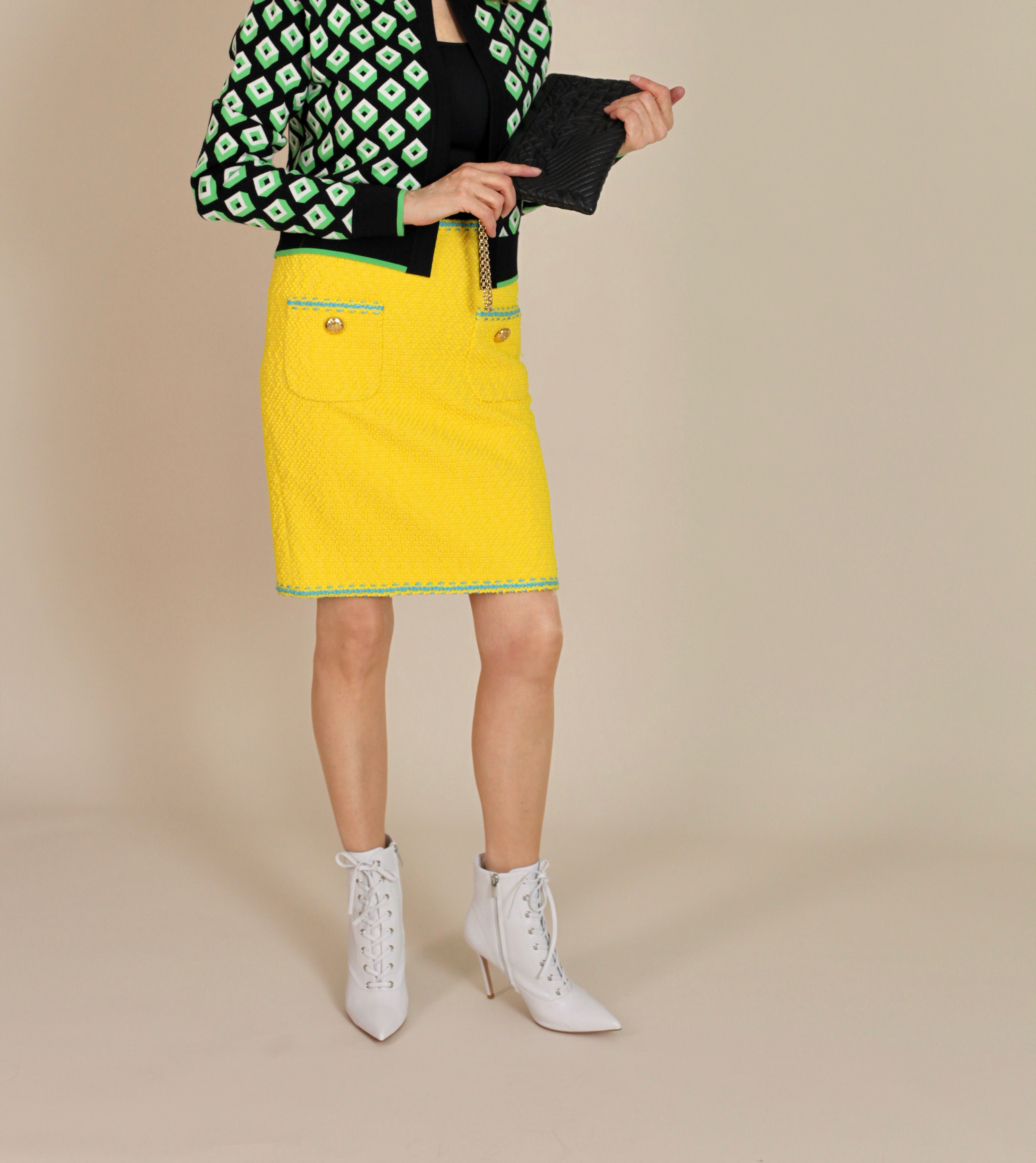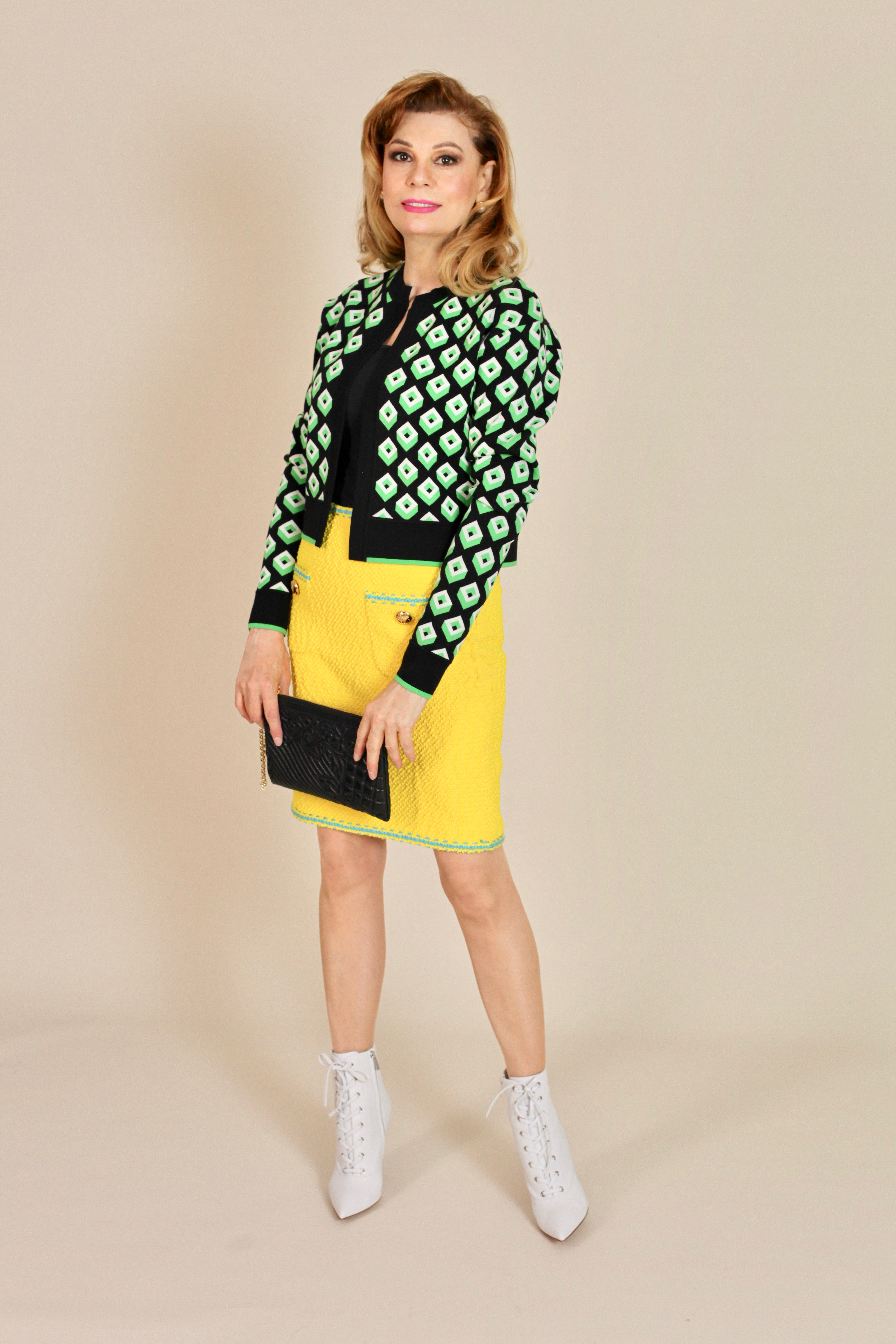 What do I wear:
Pencil Skirt from Moschino
Cropped Jacket from DVF
Leather Ankle Booties in White
Black Leather Clutch
Lemons – that is a glass of lemon water in the morning – are claimed to improve mood, energy levels, immune systems and metabolic health.
One final word on lemons. When life gives you lemons, make lemonade!
YOU MAY ALSO BE INTERESTED IN:
BACK TO NATURE – WITH 4 STUNNING DIRNDLS?
https://www.mypreferredpieces.com/back-to-nature-with-a-stunning-dirndl/