LEMON POWER PART 6
Yellow Cardigan, Blue Pleated Skirt, Bracelet Bag and Colour Matching Pumps
Cardigan
To get an effortless outfit, you sometimes just need a lovely cardigan in bright colour and a pleated skirt. I love  yellow, a colour that stand for freshness, happiness, positivity, energy, and much more.
Cardigans, as you can see in the picture, have buttons,  contrary to the pullover which has to be pulled over. Originally, cardigans were made from wool but today you can find them in cotton, cashmere, synthetic or different fabric blends. Why do we call cardigan, a cardigan? Because of James Brudenell, 7th Earl of Cardigan, a British Army Major General.  
The history tells us that the origin of the modern cardigan relates to the British officers who wore a knitted wool waistcoat during the war. The original garment was a sleeveless vest which with time changed to the current version. 
Women's cardigans are very versatile in colours and fabrics. This vintage knit essentials, can be bought today in fun colours, with embellishments,  glitter, oversized or just the contrary cropped.
How to wear it?
The cardigan can be styled in so many ways, casual or formal. You can wear it with a skirt, as I have done. It also looks great with pants and  over a dress. Try it you will love it.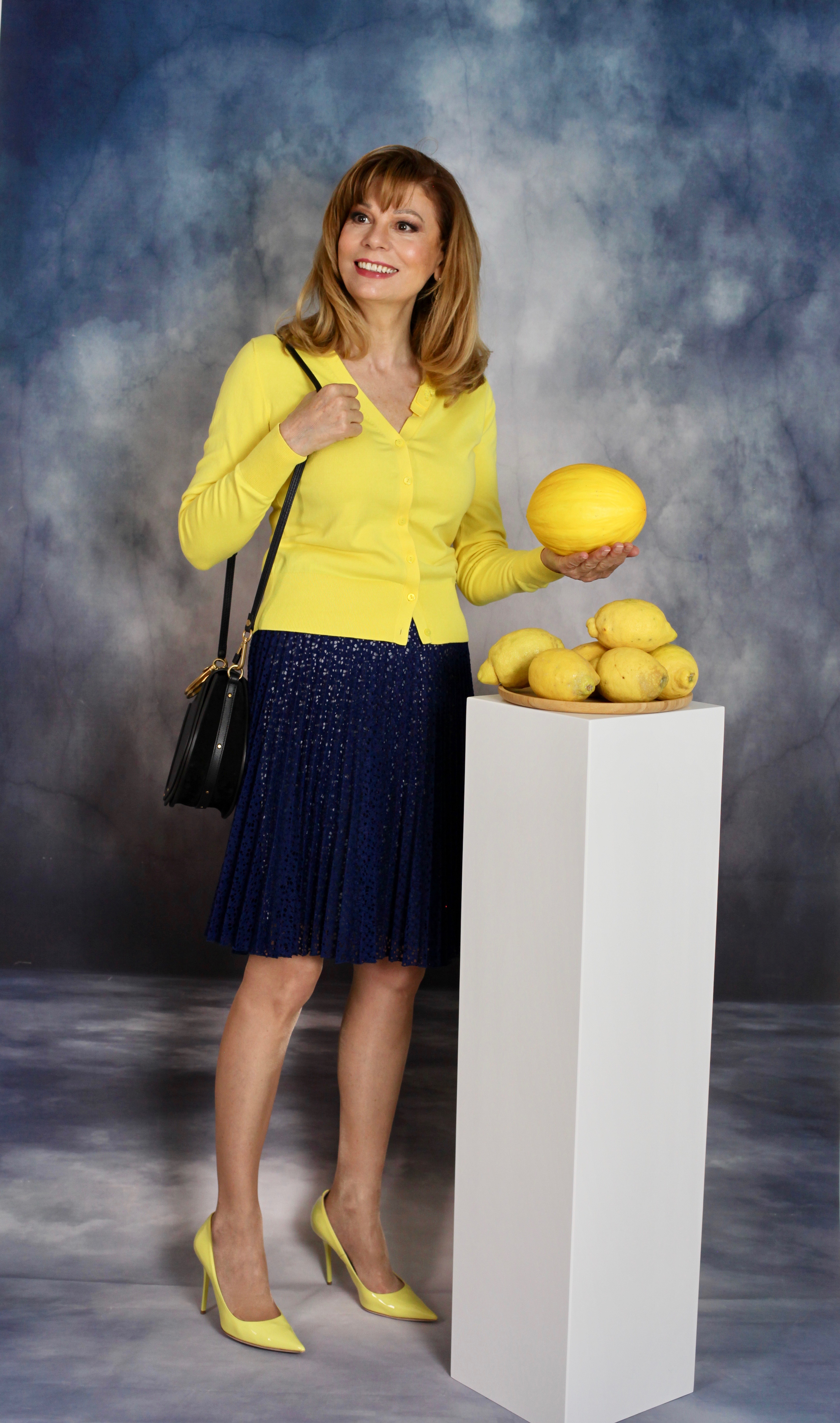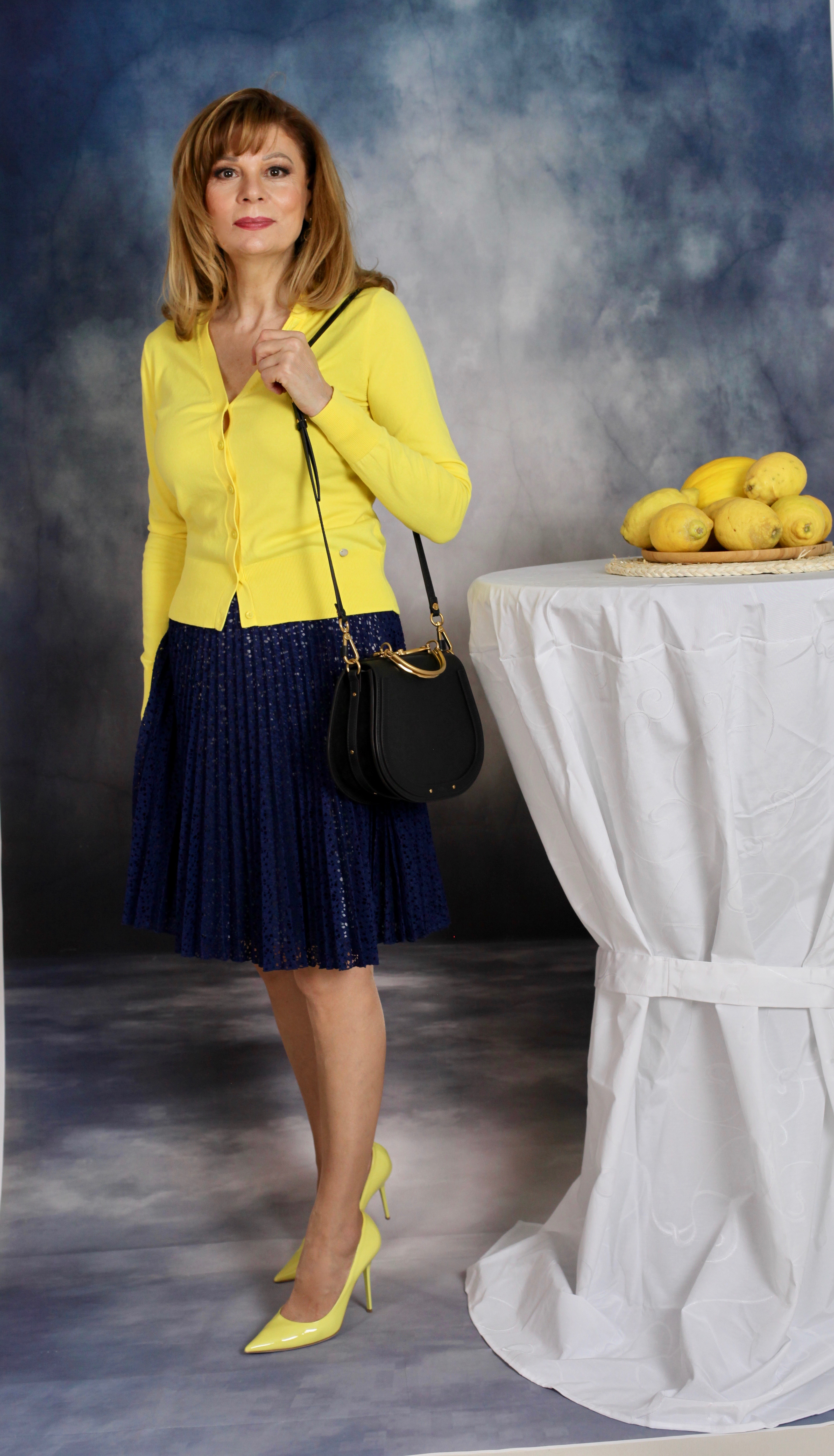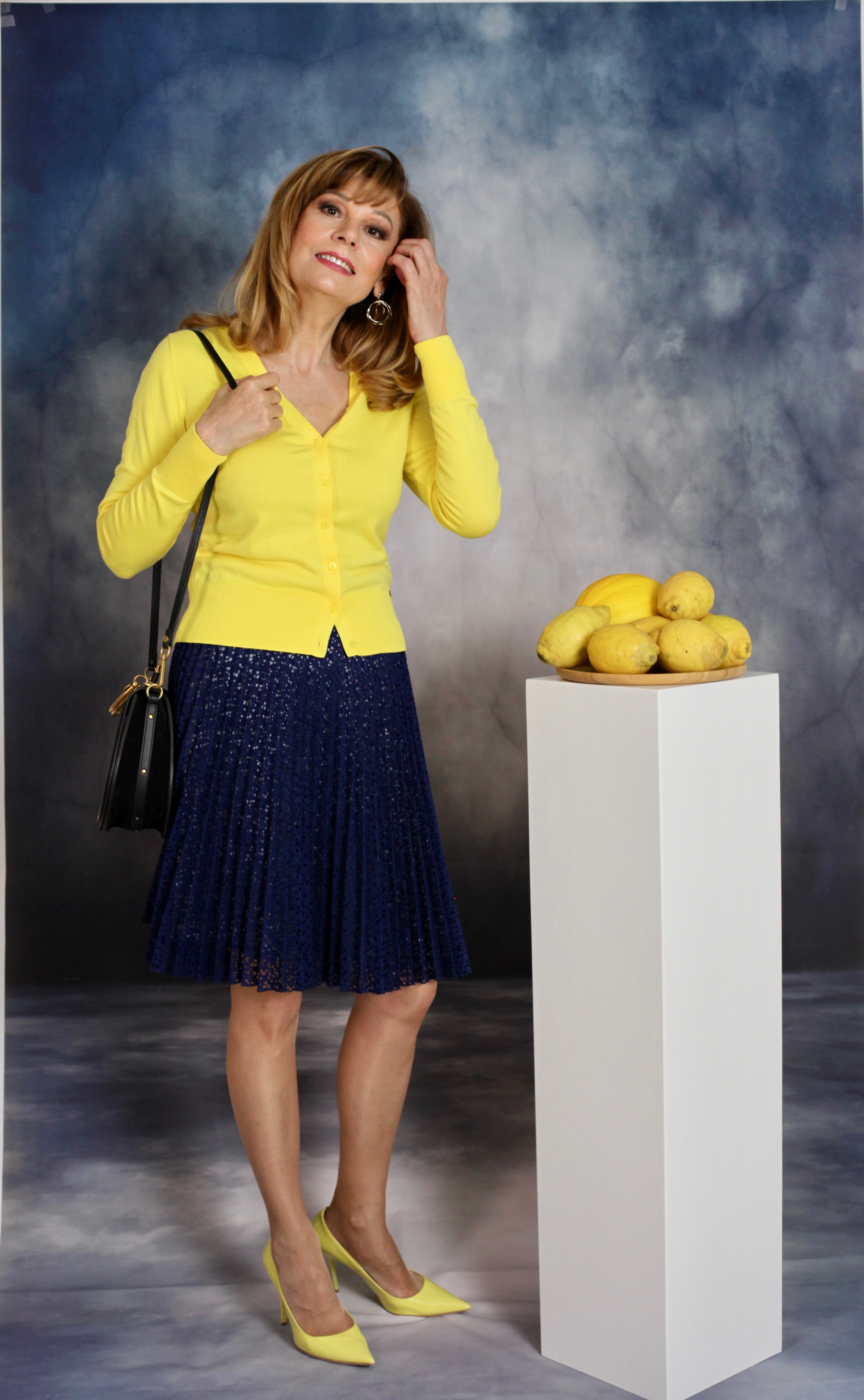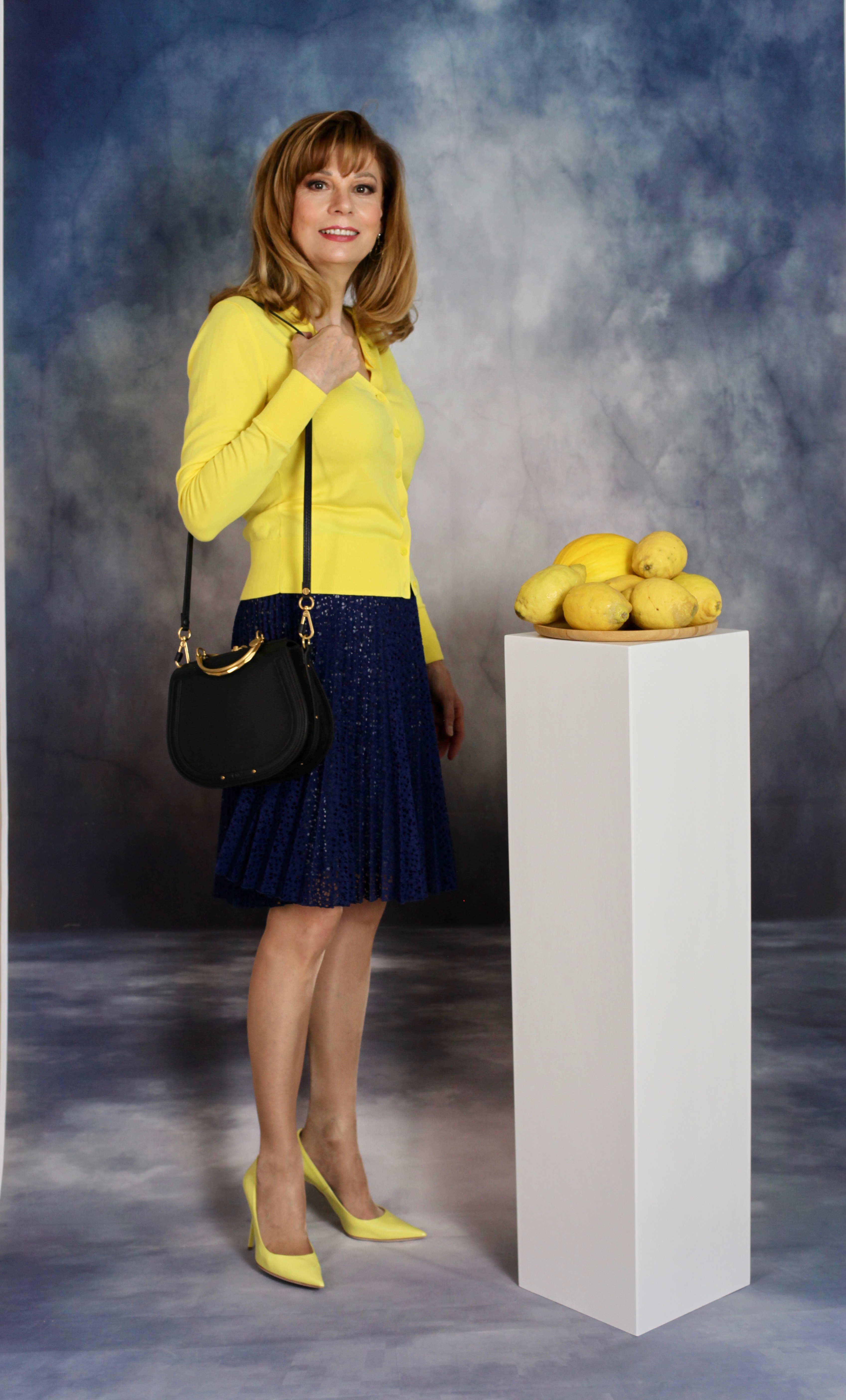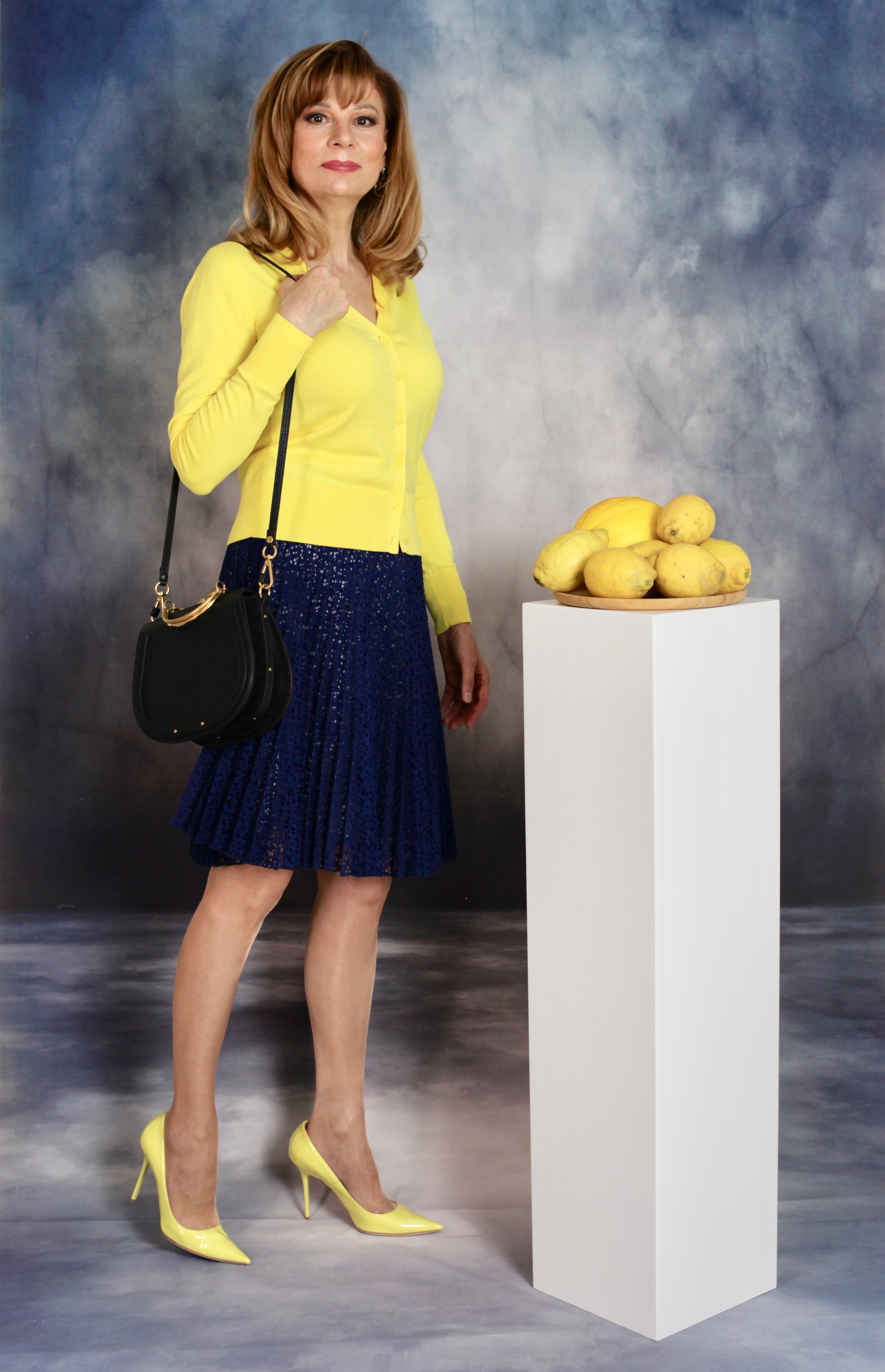 Bracelet Bag
The shoulder strap from the bracelet bag is adjustable, removable and convertible for versatile styling. Carry it alongside a short yellow cardigan and a blue over the knee length pleated skirt for a more sportive look.
What do I wear?
Yellow Cotton Cardigan
Blue Pleated Skirt
Colour Matching Pumps
Bracelet Bag from Chloé
YOU MAY ALSO BE INTERESTED IN:
YELLOW PENCIL SKIRT, GREEN CROPPED JACKET AND WHITE ANKLE BOOTIES
https://www.mypreferredpieces.com/outfit-number-7-a-yellow-pencil-skirt/