FOOD MEETS FASHION!
WHAT HAVE FOOD AND FASHION IN COMMON?
I am sure you will be asking yourself what have fashion and food in common. The answer to this question is quite easy, everybody has to eat and has to dress everyday and I strongly believe that what we eat is absolutely reflecting on how we look and feel.
On the other hand being well dressed influences our confidence and shows people that we take care of ourselves.
So, the first thing that comes to my mind that links fashion and food together is the ingredients, the quality of basic materials. We all know that it is essential to get fresh and high quality products to prepare a good meal. For me, the same rule applies to shopping and to my wardrobe.
I prefer to choose few clothes of good quality, because good-quality clothing tends to fit better, and keeps its original shape better than lower quality pieces.
I love fashion and I love to cook, it is for me a real moment of sharing and "joie de vivre".
PENNE WITH BASIL PESTO AND GREEN VEGETABLES
For the pasta dish I will need the following ingredients:
For 4 servings
Ingredients
300g penne pasts
180g frozen peas (1 cup)
1 zucchini/medium
Parmesan flakes
For the pesto
55g almond powder
50g ground parmesan
40g basil leaves
150g olive oil (3/4 cups)
1 clove of garlic
1/2 lemon juice
Butter
Equipment:
Large pot
Wooden spoon
Large pan
Small pan
Blender
Ladle
Spoon
Bowl
PREPARATION
First make sure you have boiling water and add enough salt so that the water taste like sea water. It is important to add enough salt as it is the only moment the pasta will be seasoned.
Add the penne pasta and stir at the beginning so that it does not stick to the saucepan. Cook the pasta al dente, do not overcook your pasta, make sure to taste them from time to time. I always cook my pasta 1 minute less than what is indicated on the packaging.
For the pesto sauce
Place in the blender the almond powder, the garlic clove, parmesan, basil leaves, start to blend it and pour slowly the olive oil. and mix. Add the lemon juice and mix it again to a smooth paste.
In a small pan, over medium heat, add some olive oil, the frozen peas and the chopped zucchini. Cook stirring until the peas and the zucchini are cooked, about 5 to 8 minutes.
Add in a large pan a ladle of pasta water and 1 or 2 Tbs of the pesto sauce. Add the cooked pasta and toss until the pasta is coated with the sauce. Add the green vegetables and  toss again.
I'd like to finish my pasta with a little bit of butter, I am going to cut it into pieces so that it melts quicker. Add the butter and give it a toss.
Portion individual servings and add parmesan flakes.
Bonappetit
YELLOW TROUSERS
How Do You Wear Yellow Pants?
In the picture below I wear a wide leg lemon yellow pants. They have a high waist, have been wonderfully crafted, cut to an extra-long flared silhouette. I like to have them very long, so that they cover the shoe. In this way, it is going to elongate your leg and it is classy and it's really slimming. It is all about the cut, the longer it is the longer it will make you seem. When putting the outfit together, I have learned that yellow is the most noticeable of all colours to the human eye. It is associated with sun and promotes happiness and optimism.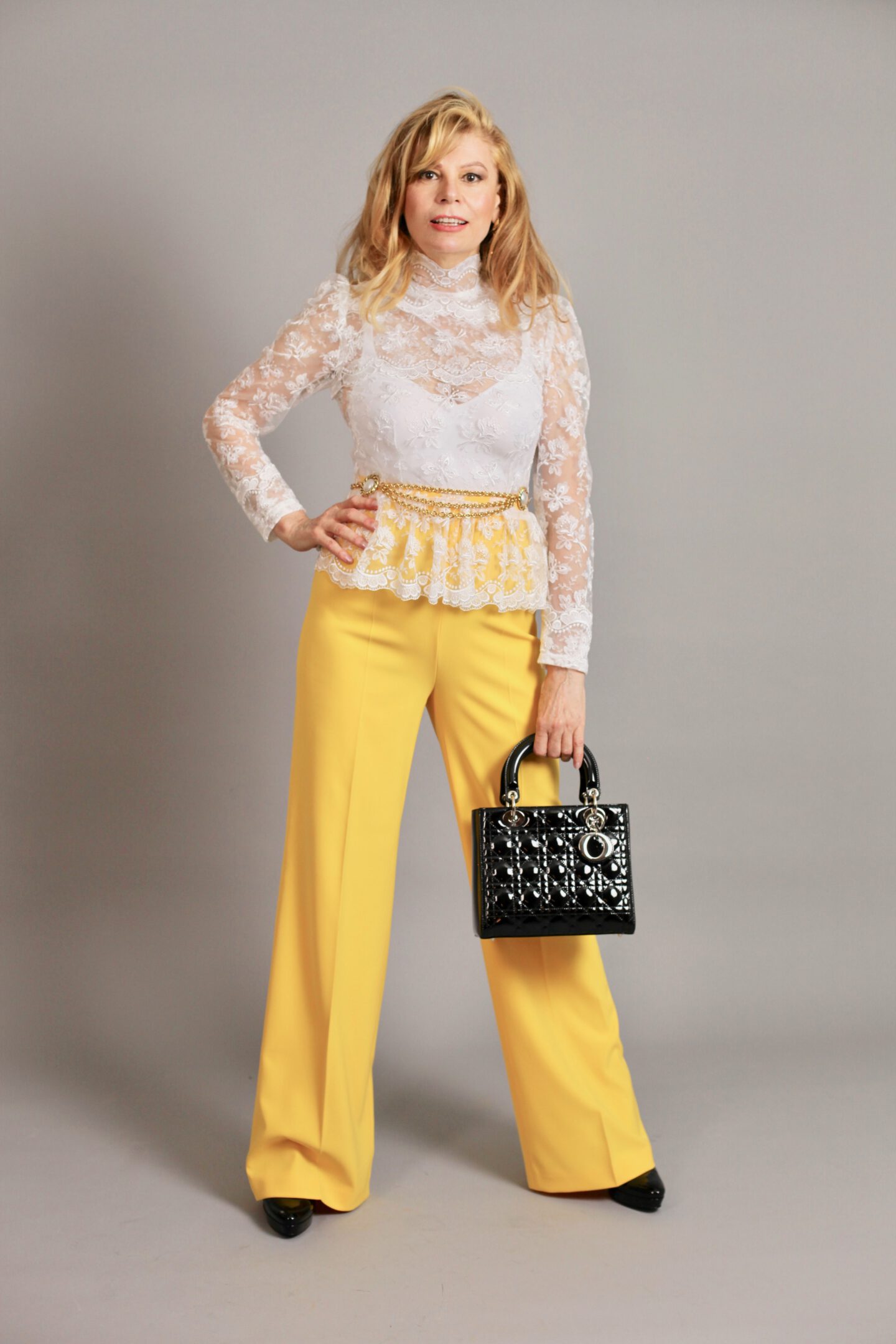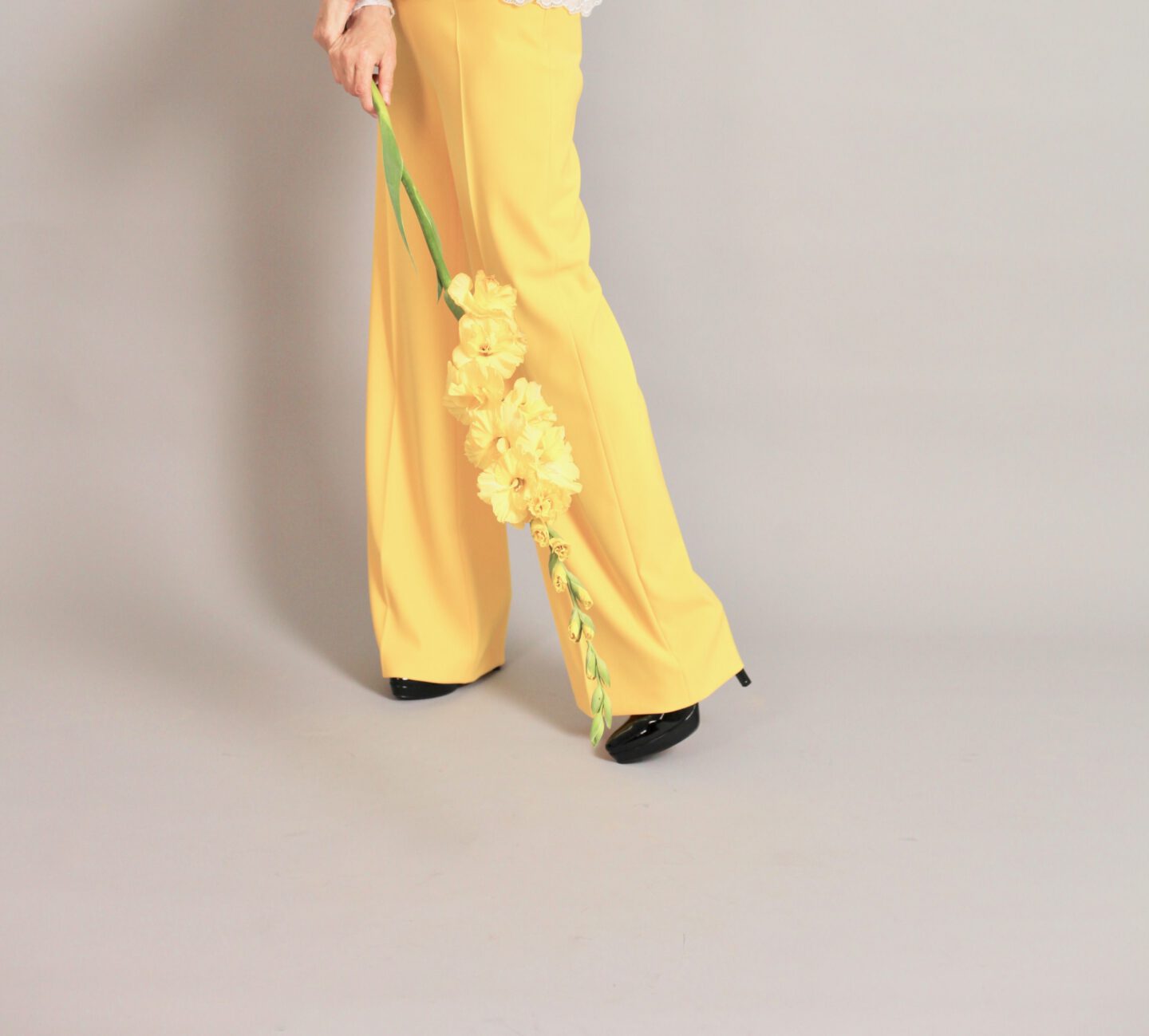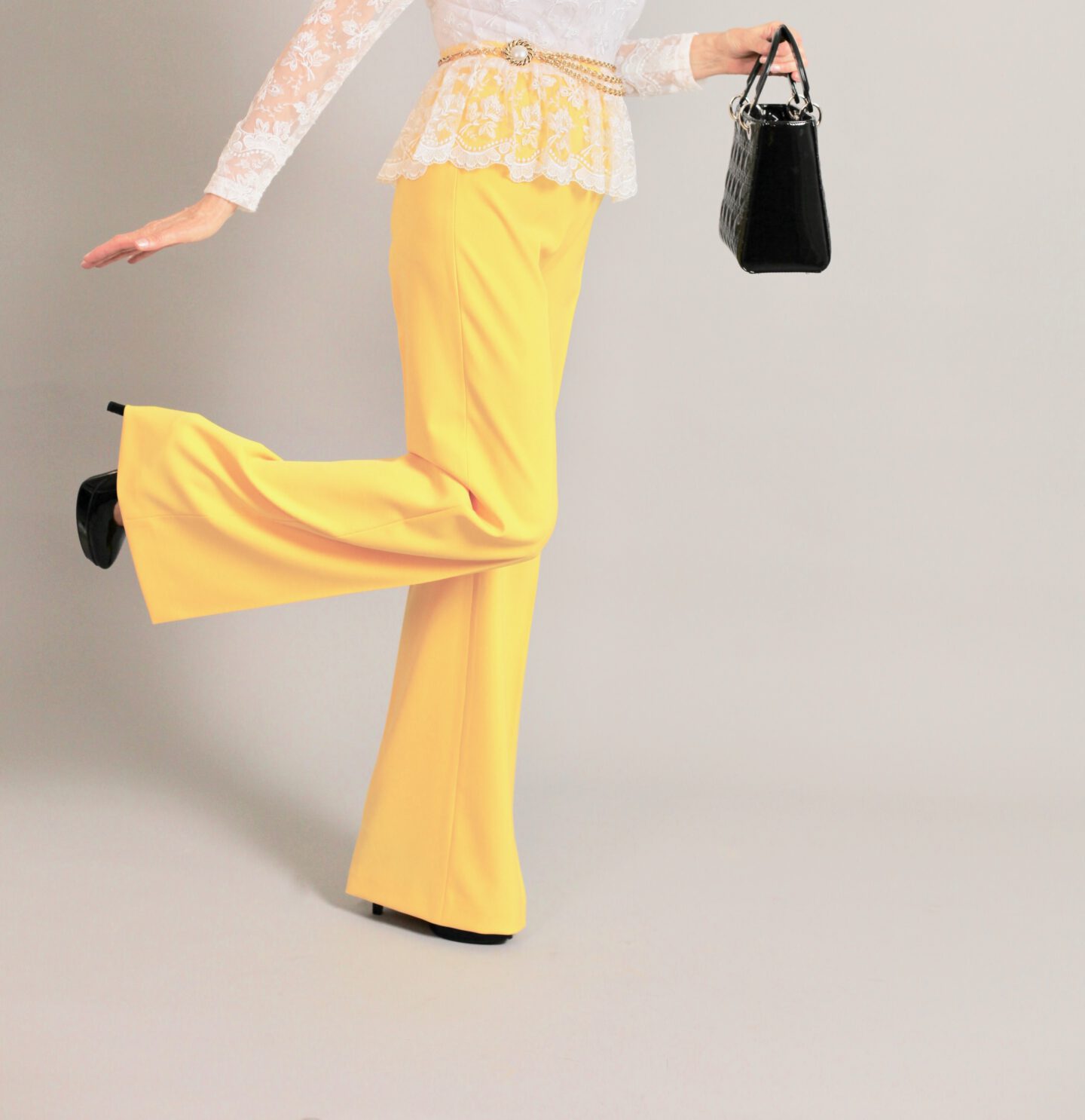 What Can I Wear With Yellow Trousers?
I have decided to wear my yellow trousers with a white lace blouse.  I love the combination of white and yellow, it represents so much the summer. The blouse has a slim fit, a beautiful high neck and long sleeves. As you can see, both the neck and the sleeves have an elegant finishing touch. What I also like a lot in this blouse is the peplum waist, it is just so feminine and I do not want to forget to mention the zip closure that runs from the neck to the waist. It is perfect.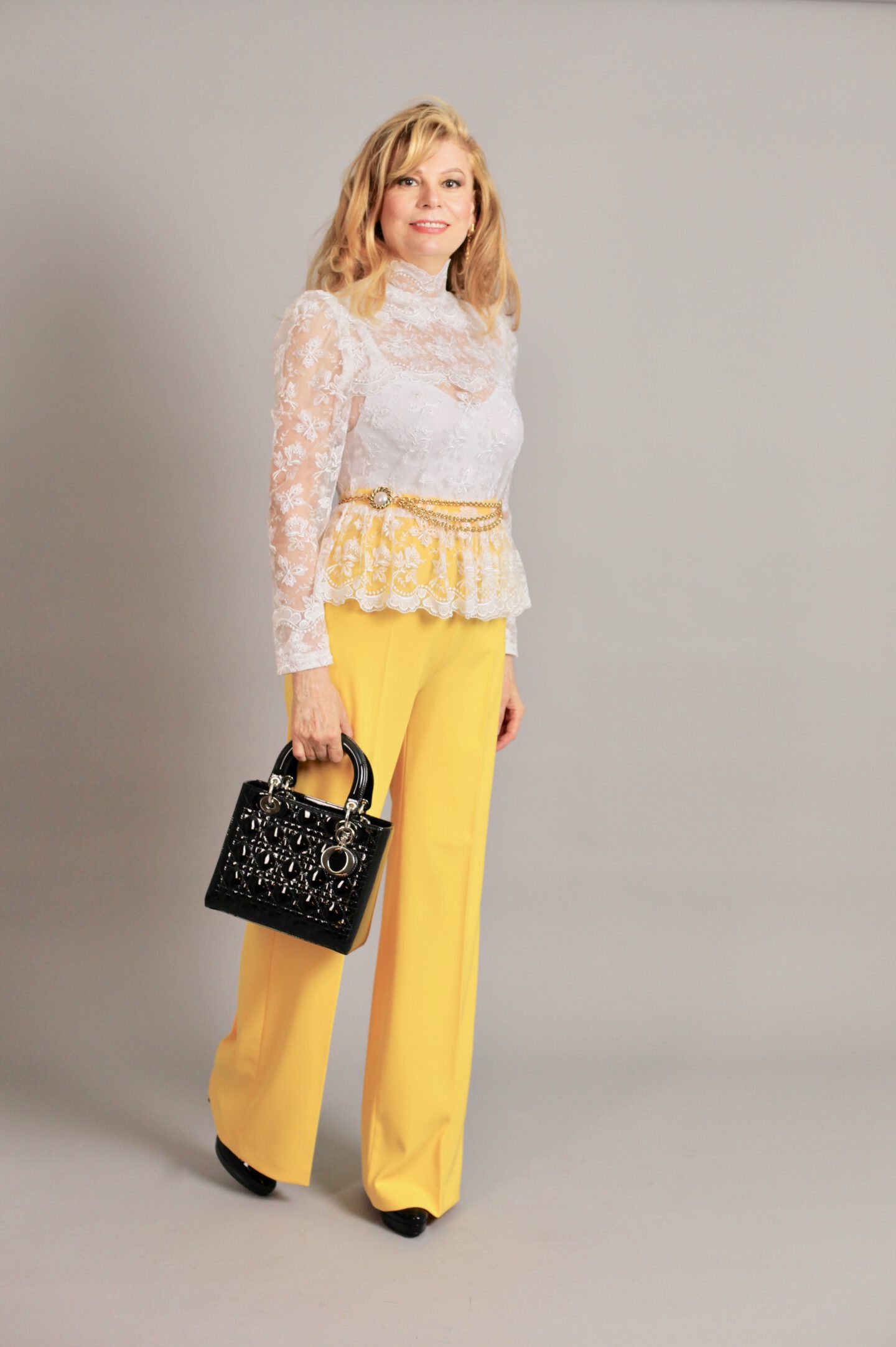 What Belt Suits The Best?
I styled this golden chain belt with the outfit. It completes the outfit perfectly, but you can also use a slim yellow belt. It will look very elegant.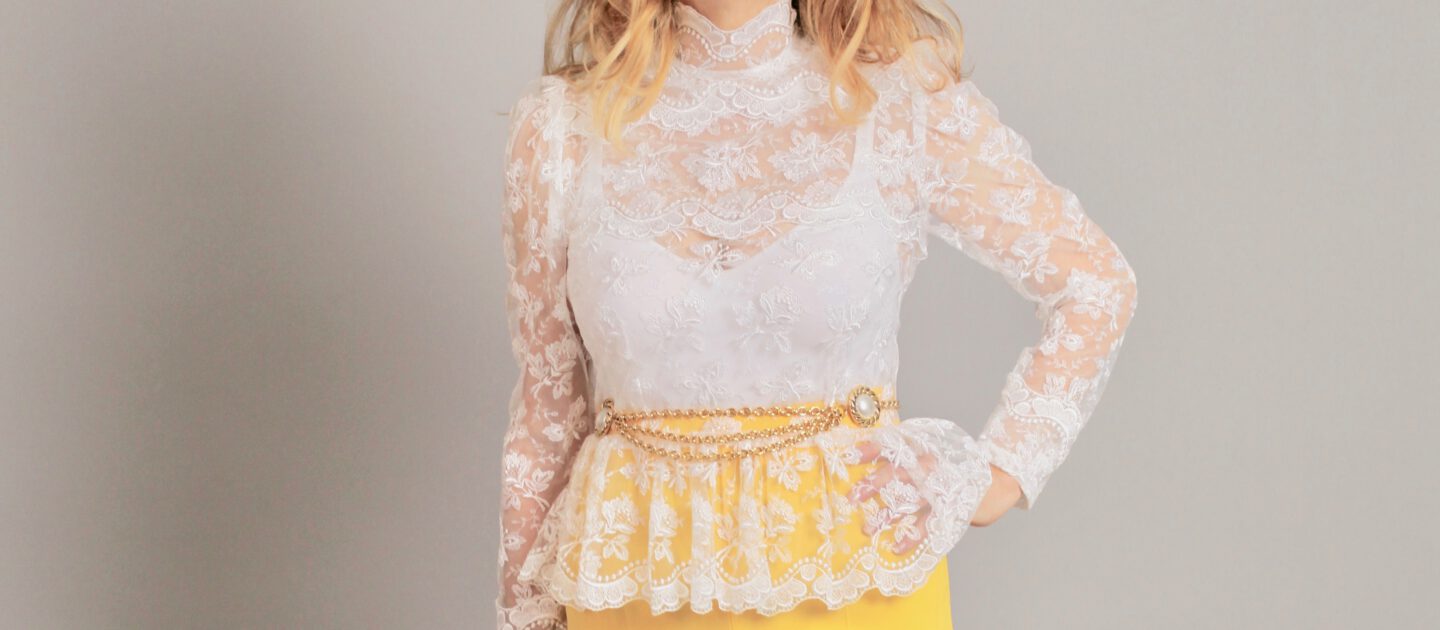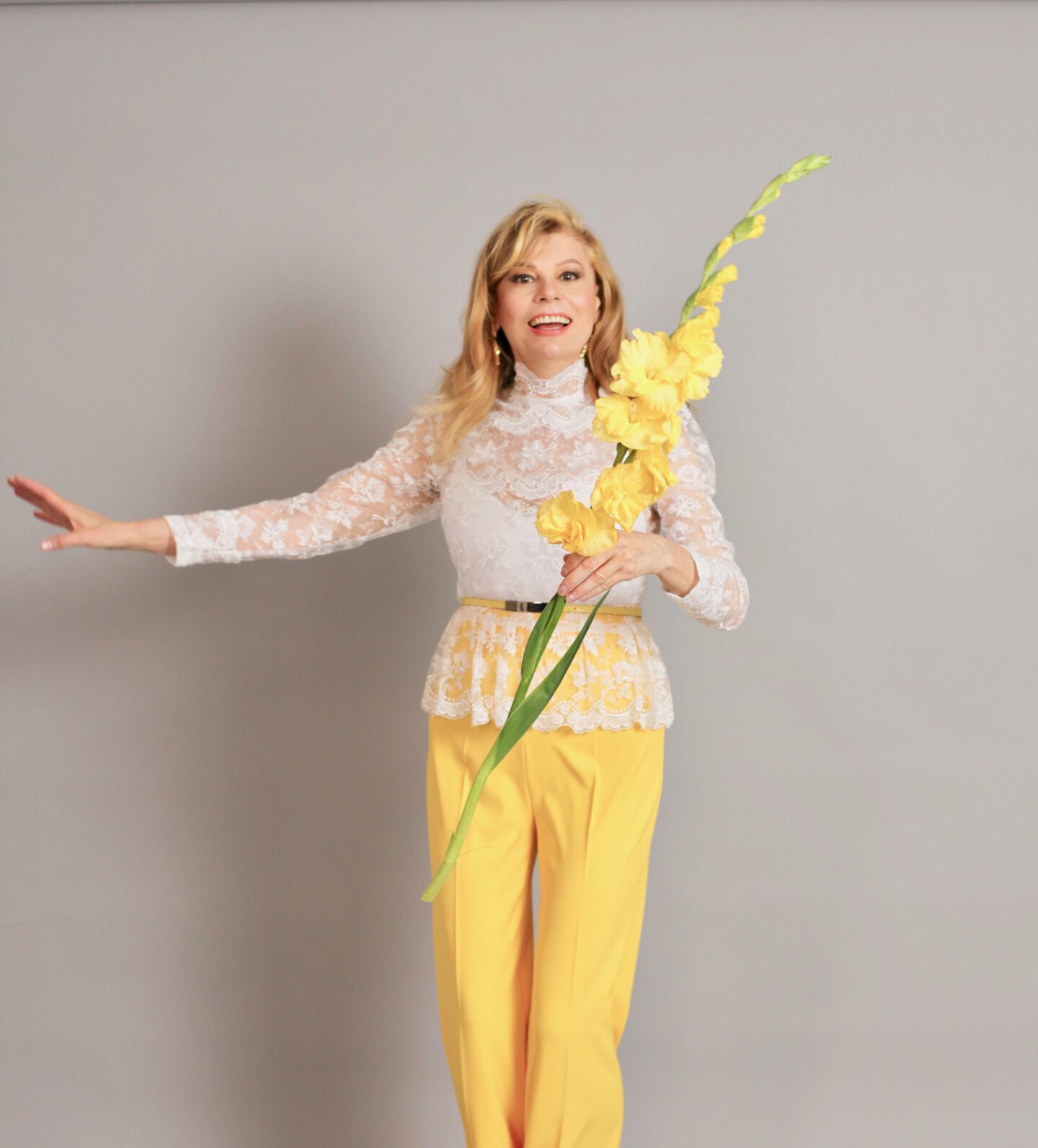 Shoes
I have matched the outfit with elegant black patent leather pumps. I have chosen the shoes have with a high heel because the trousers  are quite long.  Why do I like the shoe, because when the pointy part points out underneath the trousers it really gives you the illusion of longer legs.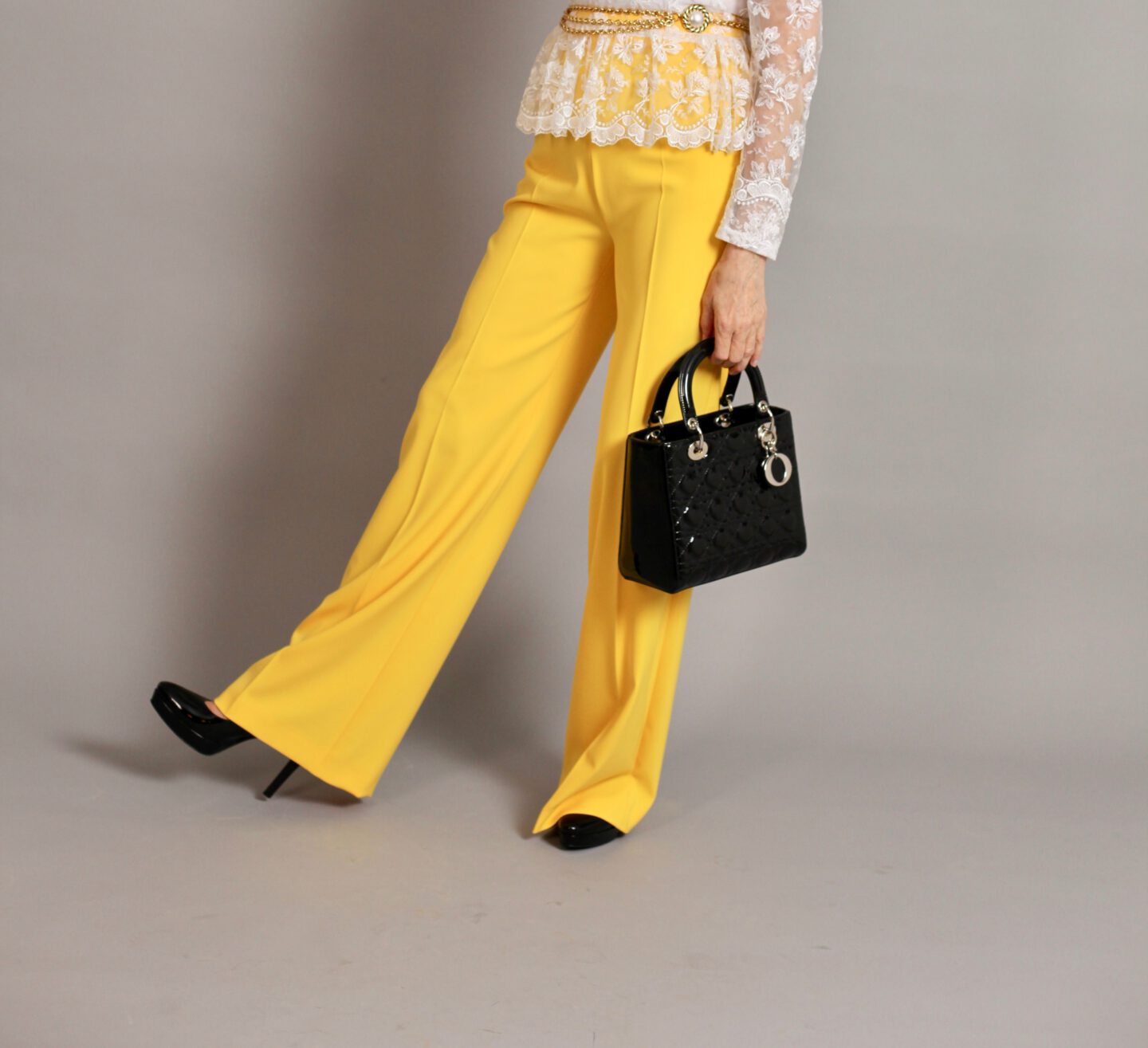 Handbag
I like to match handbags and shoes, in colour or material, that's why I selected for this outfit a black patent leather bag. It just looks so harmonious.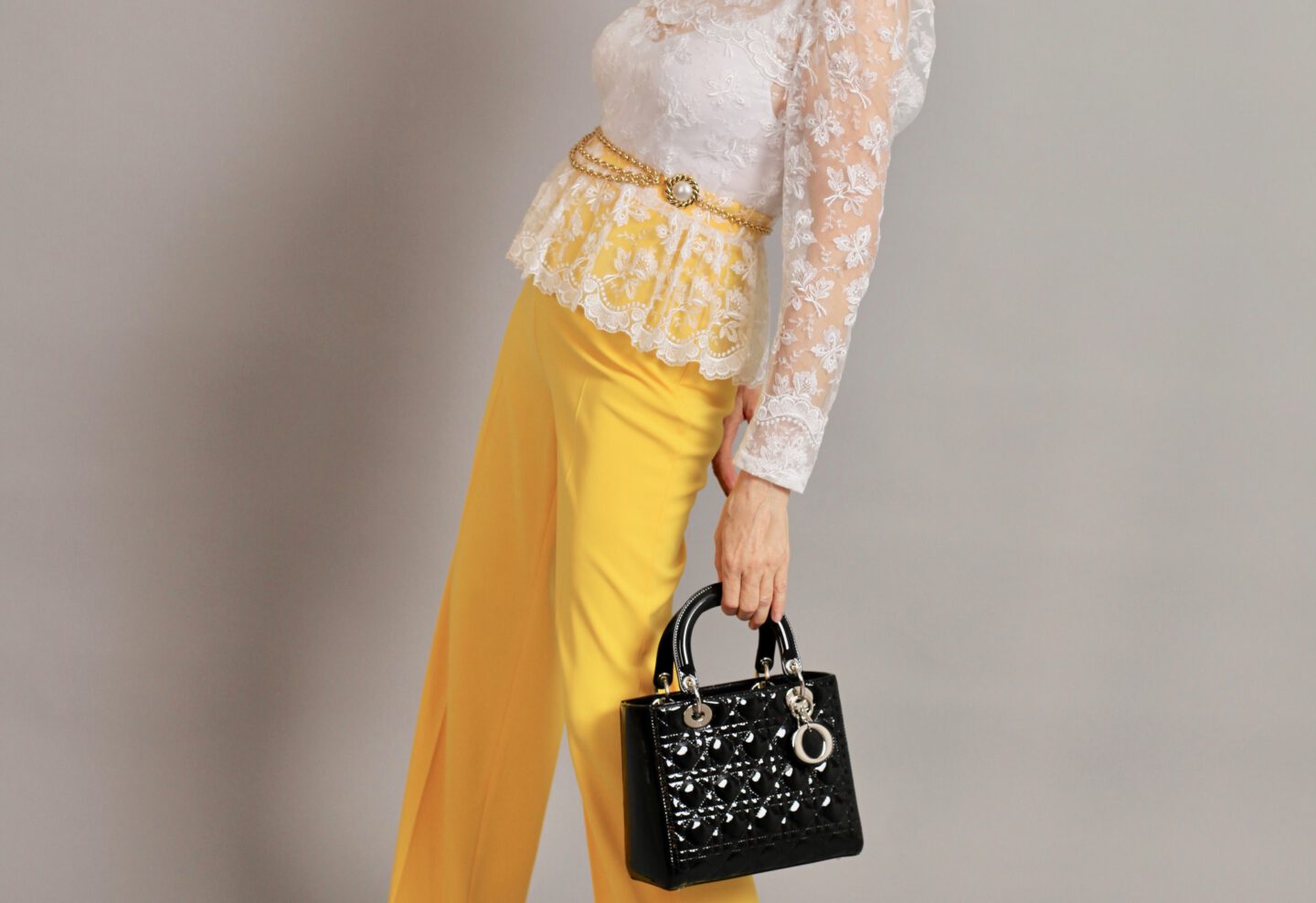 YOU MAY ALSO BE INTERESTED IN:
https://www.mypreferredpieces.com/simply-crushing-night-blue/