MY NUMBER ONE OF FOUR AMAZING BOOTS
In the next four weeks I am going to show you four of my amazing boots. Let's start.
Over-The-Knee Boots , Pink Jacket and a Pink Colour Matching Bag
In the event you do not remember, our first true love starts with BOOTS.
Cowboy Boots,
Riding Boots,
Go-Go Boots,
Thigh-High Boots,
Platform Boots,
Ski Boots,
Booties …
Now and then, we listen to songs about boots. Do you know how many songs have been written on boots?  Artists and song writers of different genre embraced the subject and produced  songs about this remarkable Footwear. There are many wonderful country songs telling us stories about boots and lyrics written to express the love for boots.
Do you remember "These Boots Are Made for Walkin'!'"  by Nancy Sinatra or "Boot Scootin' Boogie" by Brooks & Dunn. And what is about "Whose Bed Have Your Boots Been Under" from Shania Twain, which became one of her greatest hits.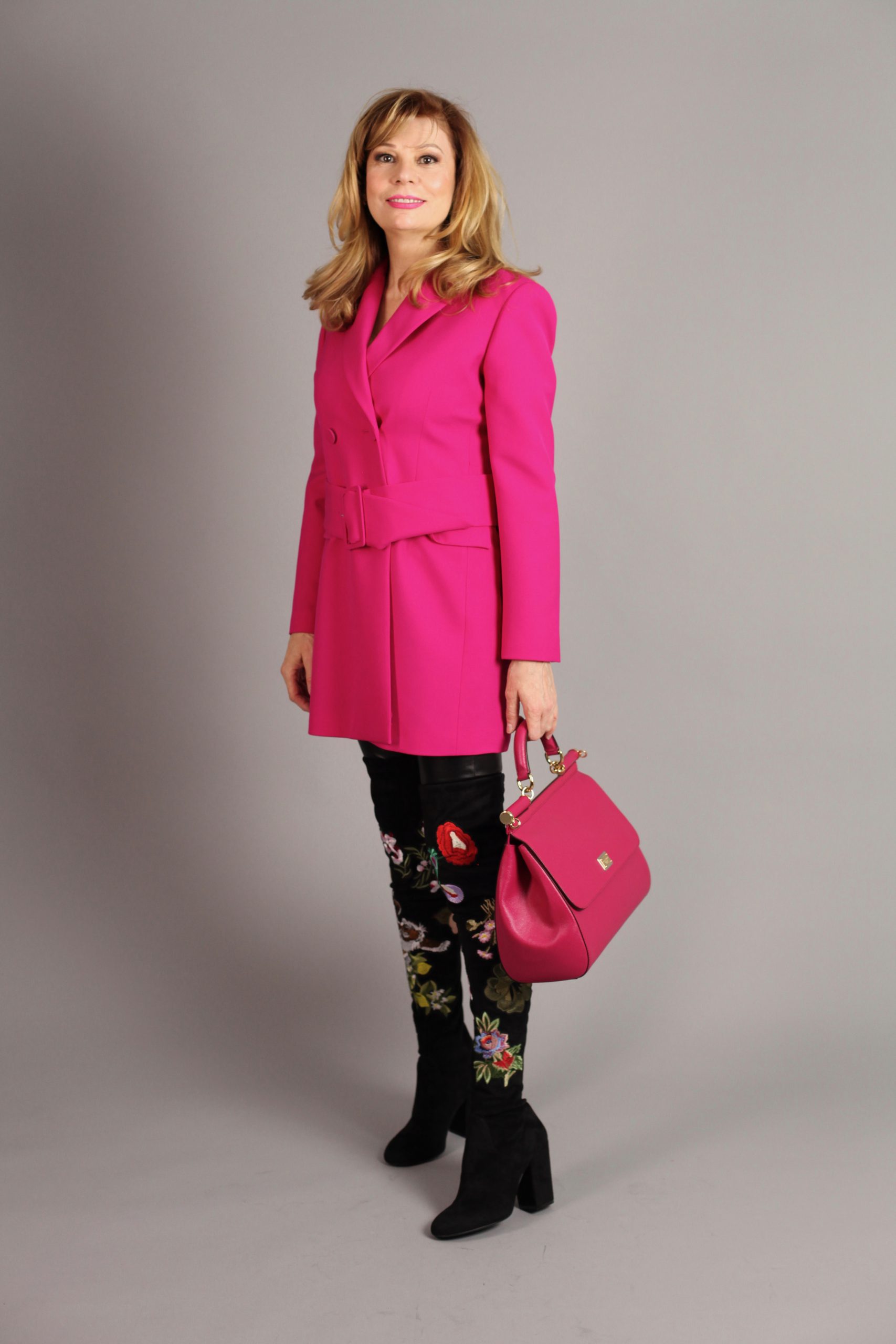 "These Boots Are Made for Walkin'!"

 
Go-Go-Boots
For sure you know this famous line, don't you? While there have been a couple of new covers since 1966, it is the version recorded by Nancy Sinatra that became an instant and permanent success. Interestingly enough, Sinatra is quoted as having talked the song writer Lee Hazlewood out of recording this hit himself.
Good to hear that! 30 years after that she offered the famous white Go-Go boots she wore to promote her song to the Hard Rock Café in Beverly Hills.
Picture downloaded from Pinterest
The original Go-Go Boots, as defined by André Courrèges in 1964, were white, low-heeled, and mid-calf in height, a specific style which is sometimes called the Courrèges Boot.
The term Go-Go is derived from the French expression á gogo, meaning "in abundance, galore", which is in turn derived from the ancient French word la gogue for "joy, happiness". Thus, although my boots are not go-go ones, to wear them means happiness in abundance!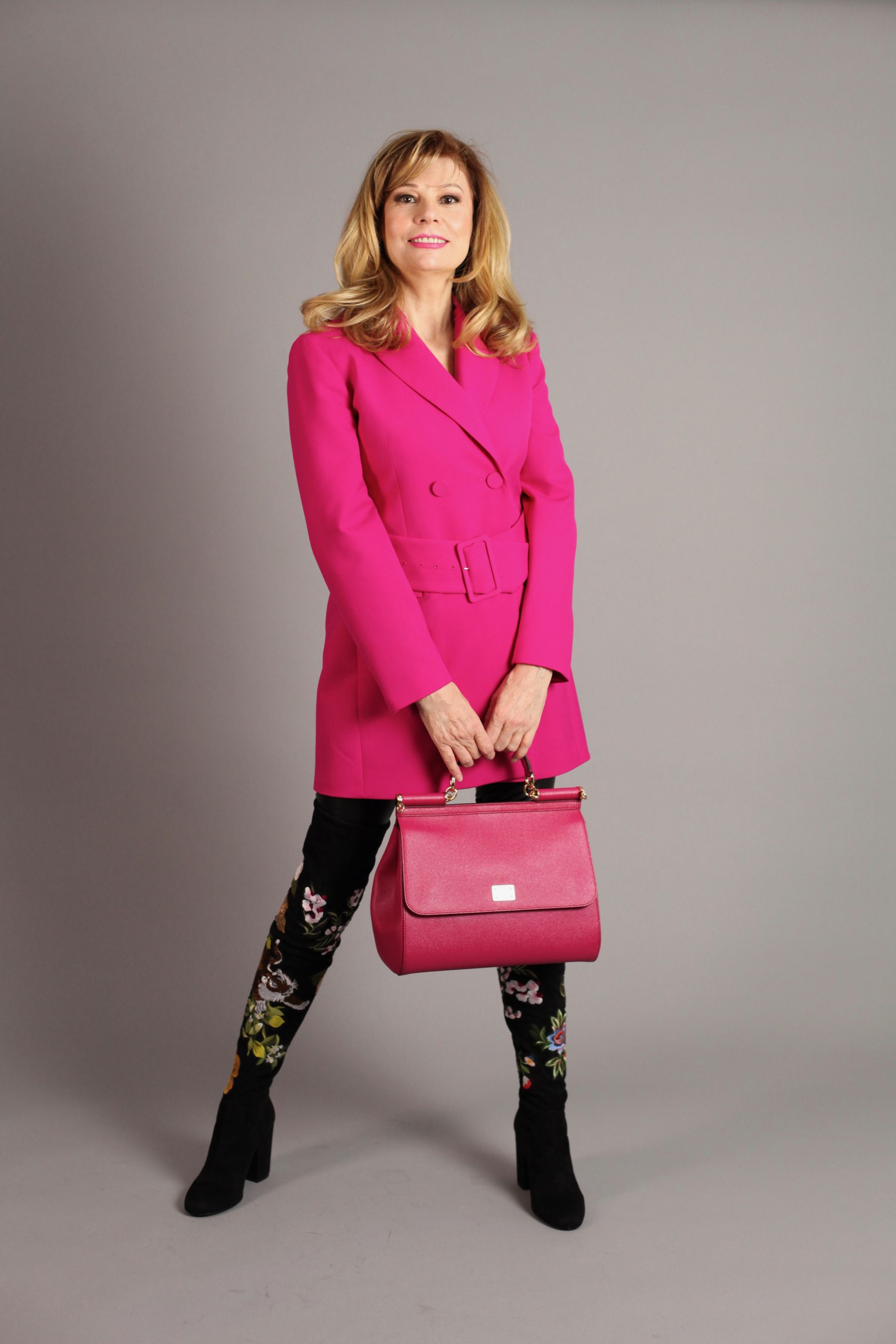 My number one of Amazing Boots 
Over-The-Knee Boots  so called cuissardes include thigh-boots, top-boots, hip-boots and waders. They are fashionable in flat and high heels. I personally like both versions. The Over-The-Knee Boots were adopted in fashion in the early 1960s. As skirts get shorter in the late 60s, the interest in thigh-length boots grows. I specifically remember Karl Lagerfeld's thigh-length satin boots in his Couture Collection for Chanel in the 90s, using the boots as an alternative to leggings.
The Over-The-Knee Boots  I am showing here are a real hit, certainly in combination with the leggings. I am sure Nancy would adore the ensemble, too. These amazing Boots made from supple suede leather in a classic black are covered with roses, tulips carnation flowers, butterflies and even tigers.
A truly luxurious pair of Over-The-Knee Boots. I styled them with an absolutely opaque leatherette leggings in black which can also be worn as trousers. You can also wear your over-the-knee boots with a good pair of skinny jeans. The pink jacket I wear in the picture has a modern length and complements very well my outfit. I like to wear it with a belt but you can also just skip it. A  pink colour-matching bag that's all you need to accessorise.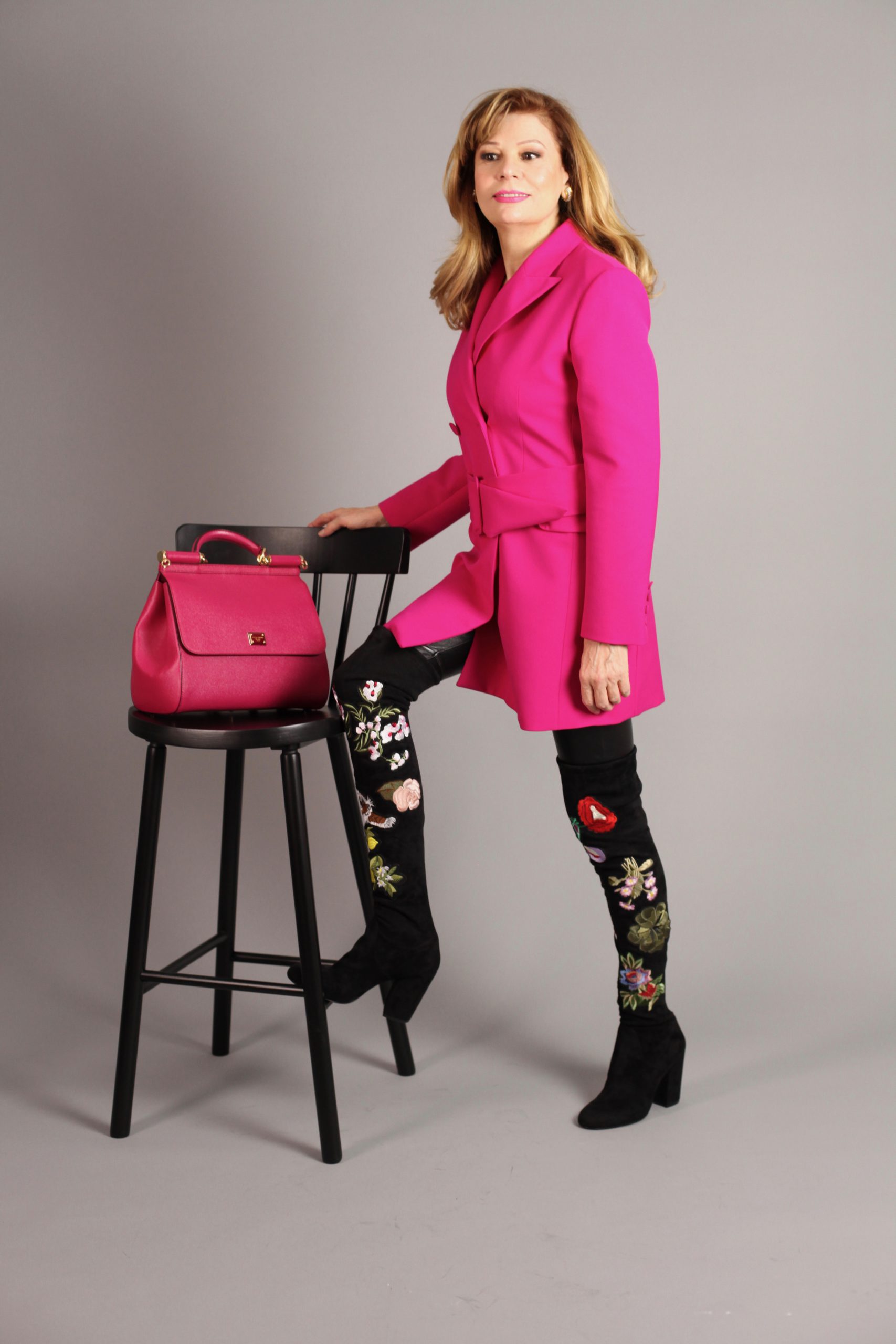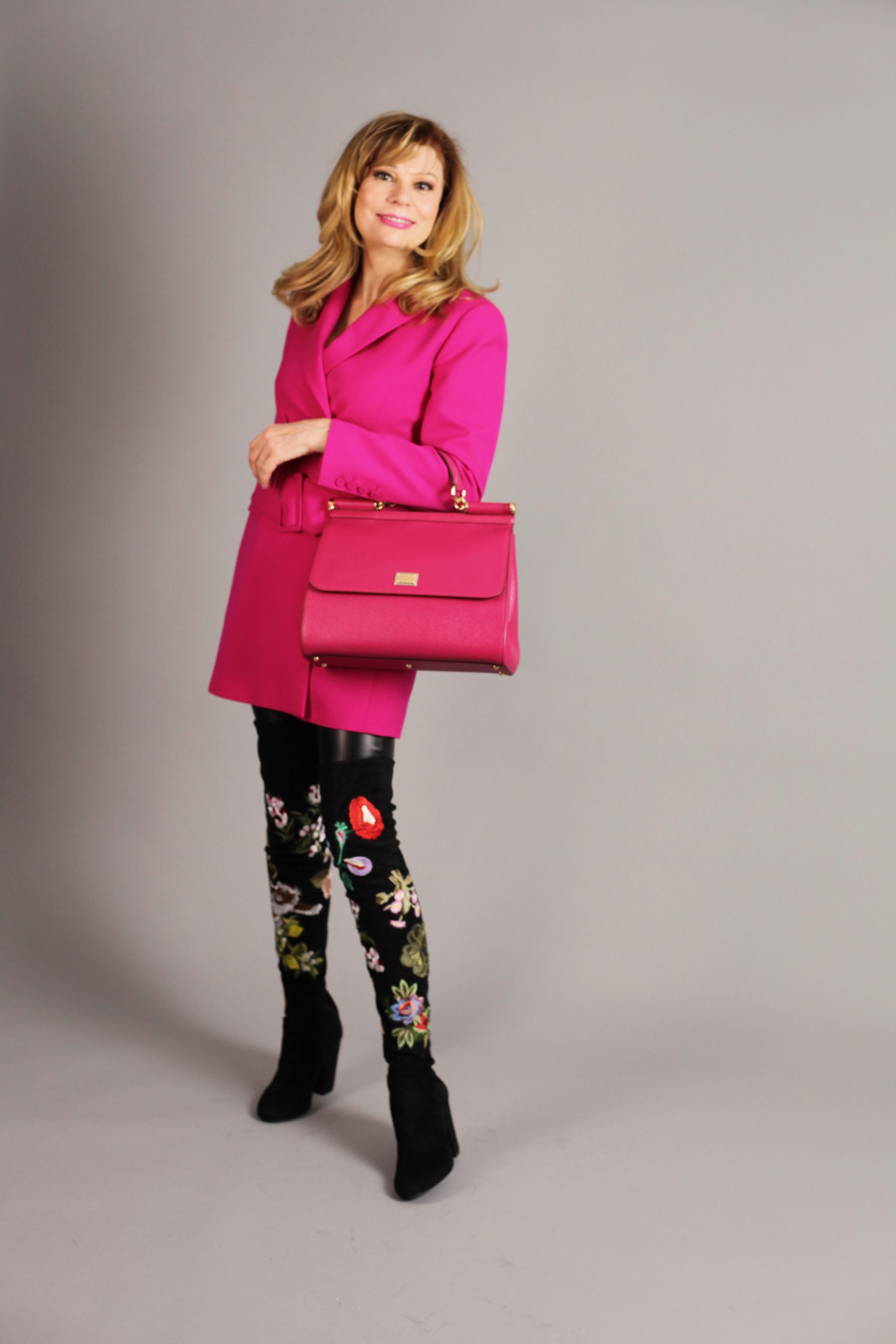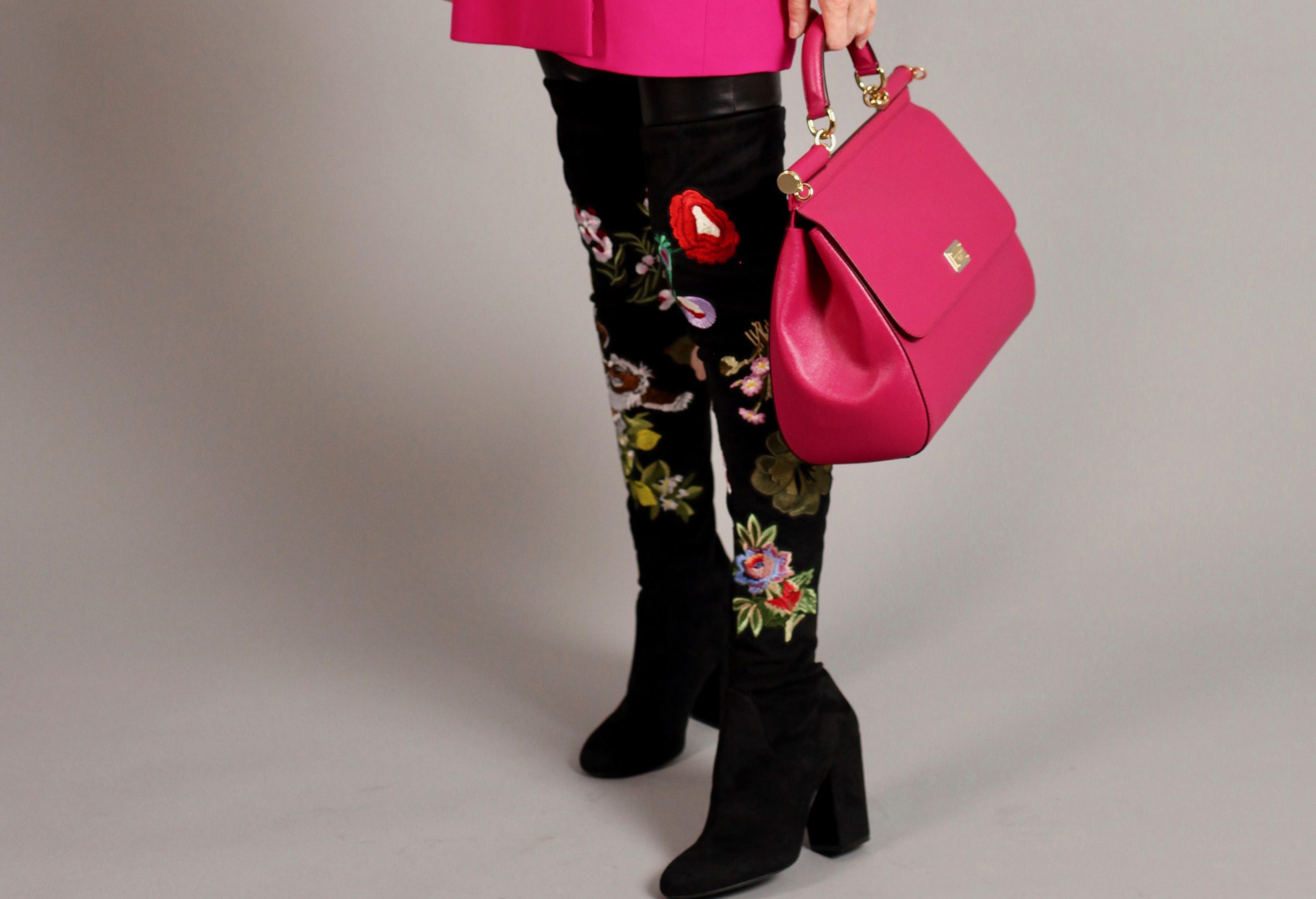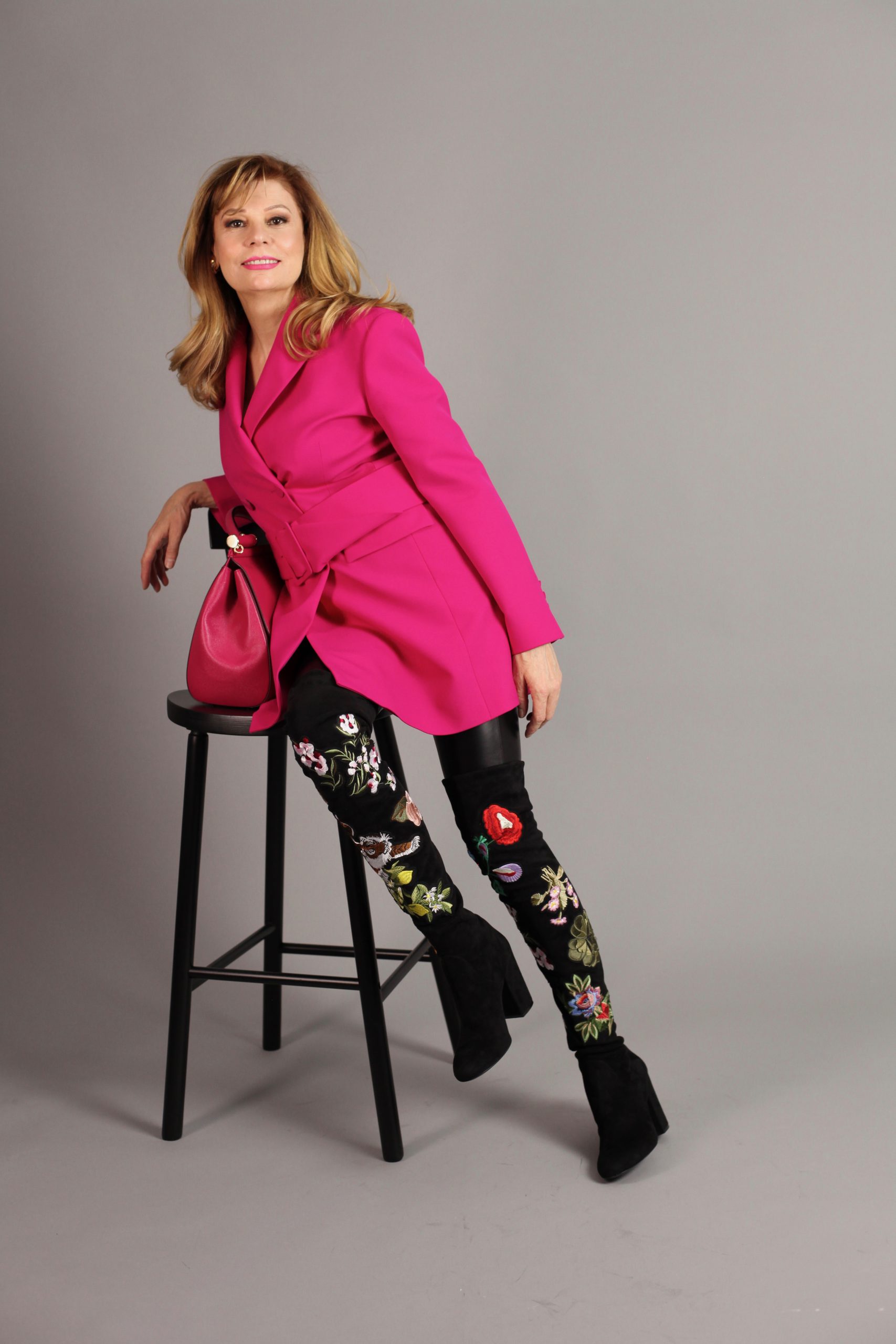 The trend in 2020 leans to the glamorous version, some of mine favourites include colourful metallics, lace-up over-the-knee boots, black leather or satin. You can easily style them with shorts, under a pencil skirt or a dress. In 2020 over-the-knee boots also complement perfectly a trend that is to tuck your pants into your boots and pair the whole with an elegant trench coat.
As you can see there are no limits to your imagination.
What Do I Wear?
Pink Jacket from Zara
Over-The-Knee-Boots from Konstantin Starke – https://www.zumnorde.de/
Pink bag
Leatherette Leggings from Wolford
YOU MAY ALSO BE INTERESTED IN:
THE EXTRAORDINARY EMMA PEEL
https://www.mypreferredpieces.com/emma-peel/