TEO&BIA

CREMA ALLA NOCCIOLA
TEO&BIA HAZELNUT  CREAM
Teo&Bia hazelnut cream contains:
ONLY 3 INGREDIENTS
         Hazelnut, Bitter Cocoa, Brown Sugar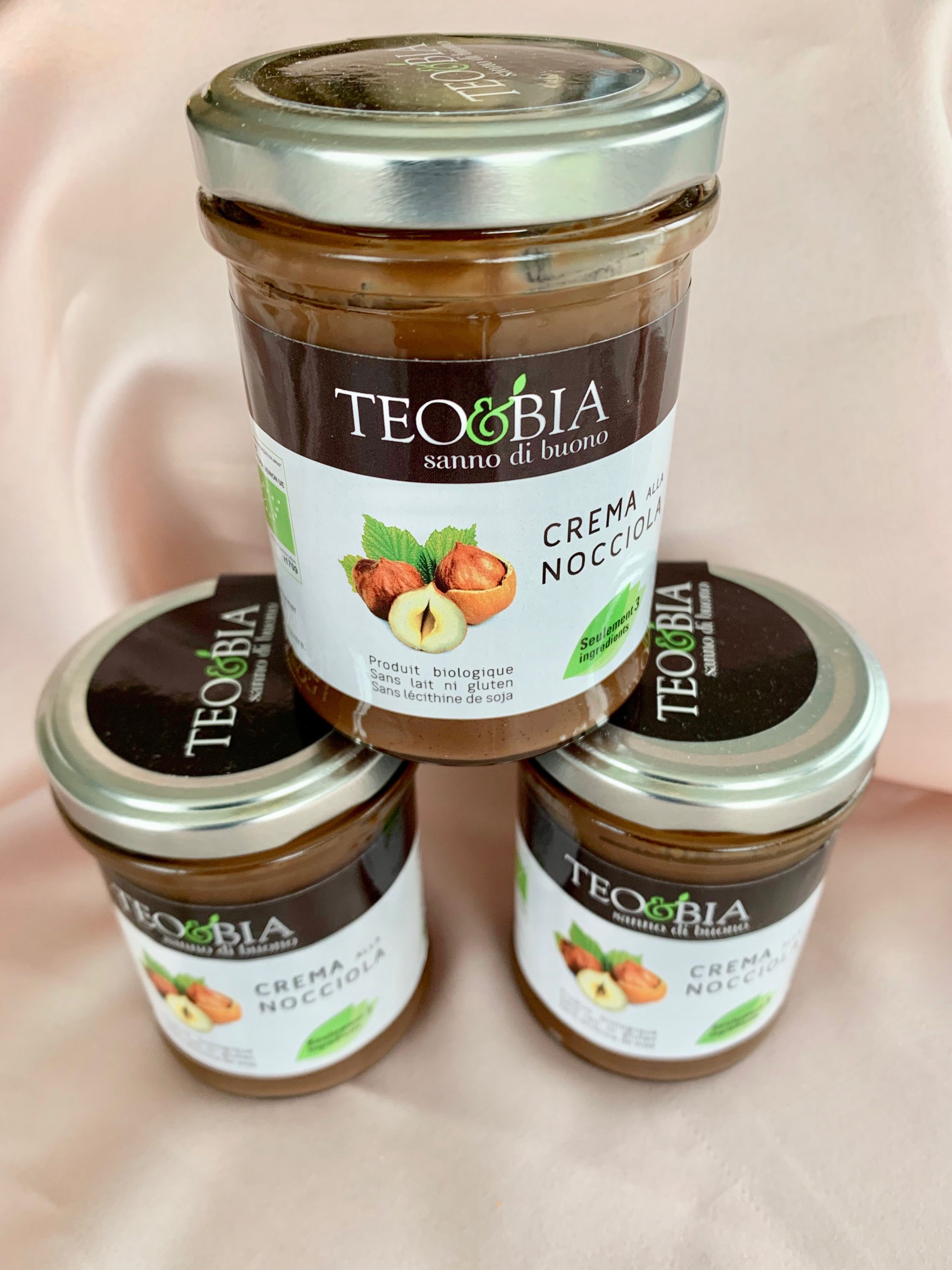 The Hazelnut
The Tonda Gentile Trilobata hazelnut used for the cream is a special variety of hazelnut that has an intense aroma, a delicate flavour and a limited fat content. It is a variety, grown significantly in the province of Alba (Cuneo), particularly in the Alta Langa, where the main crop is located.
Without knowing that the Piemonte Hazelnut will rise to fame because of TEO&BIA Hazelnut Cream, I enjoyed the hazelnuts for its exceptional taste, when travelling to the region some years ago.  For me, it is just the best Hazelnut I have ever eaten.
Bitter Cocoa
The chocolate that is used in the spread comes from a tropical evergreen tree Theobroma Cacao, also called cocoa, whose scientific name means "food of the gods" in Greek. The cocoa beans that have a bitter and strong taste are processed into cocoa powder, cocoa butter and chocolate.
Chocolate as you already know has many health benefits and for me an important one – it is a natural mood elevator. 
Brown Sugar
Extracted from sugar cane, is not refined and less processed than table sugar. The sugar is made in the leaves of the sugar cane plant by photosynthesis. Energy from the sun transforms carbon dioxide and water into oxygen and glucose. The excess energy which the plant doesn't need is stored as sugar in a sweet juice found in the plant's fibrous stalks.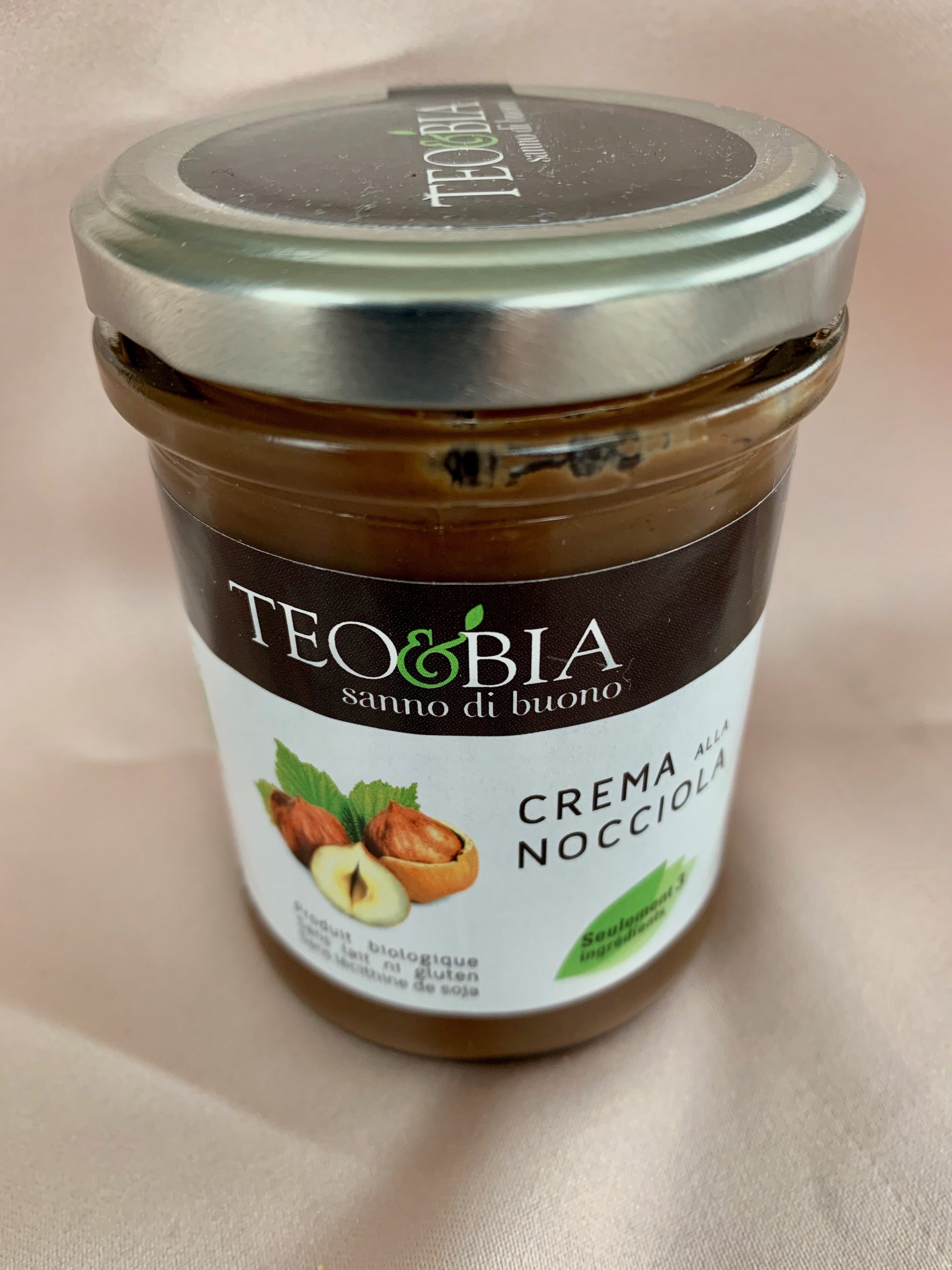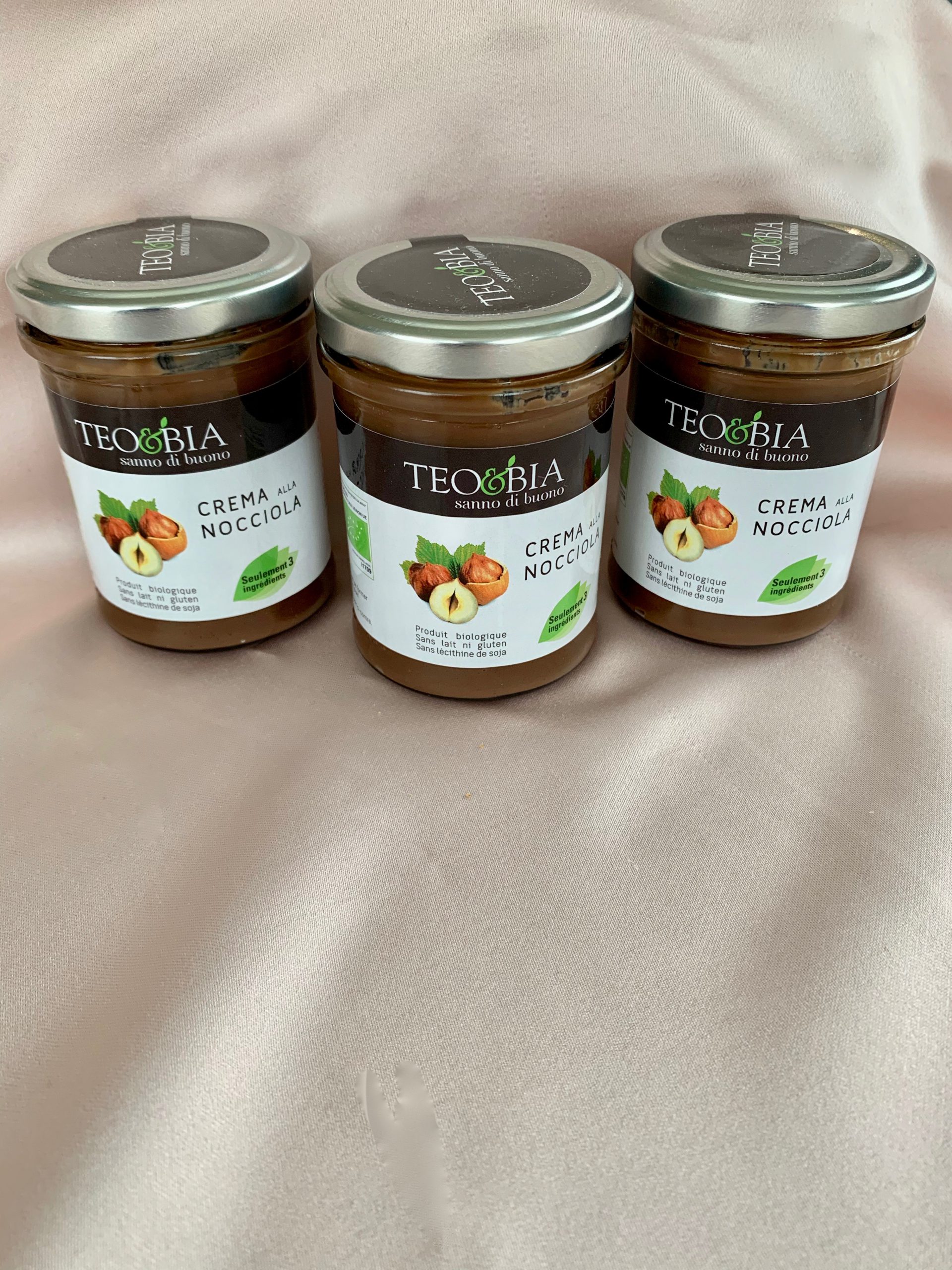 I came across with TEO&BIA hazelnut cream through a broadcast on French national television. The transmission was dedicated to hazelnut spread and projects related to farms. And for sure, I had to find out whether the product will live up to my expectations. I have never ever stopped buying this hazelnut cream.
 Teo&Bia is a family business, based in Italy.
On their website one can read the following:

In Italy, the best foods are born in the family. From the family, it takes the sense of the detail of the people who work to satisfy everyone's tastes, to create comforting foods, to share the pleasure of the table with each member.

Since 2004 we have engaged in our pastry / gastronomy to propose foods with the most natural ingredients possible and less manipulated by the food chemistry, trying to respect nature with its resources and needs, paying attention to the use and recycling of materials.
These perfectly reflects the idea I have about food and its impact on our health. What we eat is crucial to our health and I am very much convinced that natural ingredients provide us with nutritious material in food that are essential for the growth, development and upkeep of our body functions.
 WHY IS IT SO GOOD
Because of its natural ingredients
100% ORGANIC
Because of its few ingredients, only 3 and they are:
                RICH IN ANTIOXIDANTS
                                                                   NO MILK
                                                                                      GLUTEN FREE
                                                                                                                   NO SOY LECITHIN
GOOD FOR VEGAN AND INTOLERANCES
 WHY DO I LIKE IT?
The TEO&BIA hazelnut spread has an excellent taste
It is made from my preferred hazelnuts from Piemonte
I like products with only essential ingredients, why adding more if not necessary
The hazelnut cream is free of milk, I am intolerant to dairy products
It is gluten free
It contains no soy lecithin or any other oil, except the one naturally included in the hazelnut
This product is just too good not to talk about it.
Where to buy (I do not receive any commission)
Meanwhile TEO&BIA hazelnut cream can be bought online at the online store of the family
It is also available in many other shops in Italy and France. Please consult teo&bia's website.                                               
YOU MAY ALSO BE INTERESTED IN:
BREAKFAST  –  HABERMUS
https://www.mypreferredpieces.com/habermus/