Silk Shirt , Black Wool Mini Skirt and BURGUNDY Suede Leather Calf Boots
A new week with new boots, number 3, this time in a new colour, BURGUNDY and in suede leather.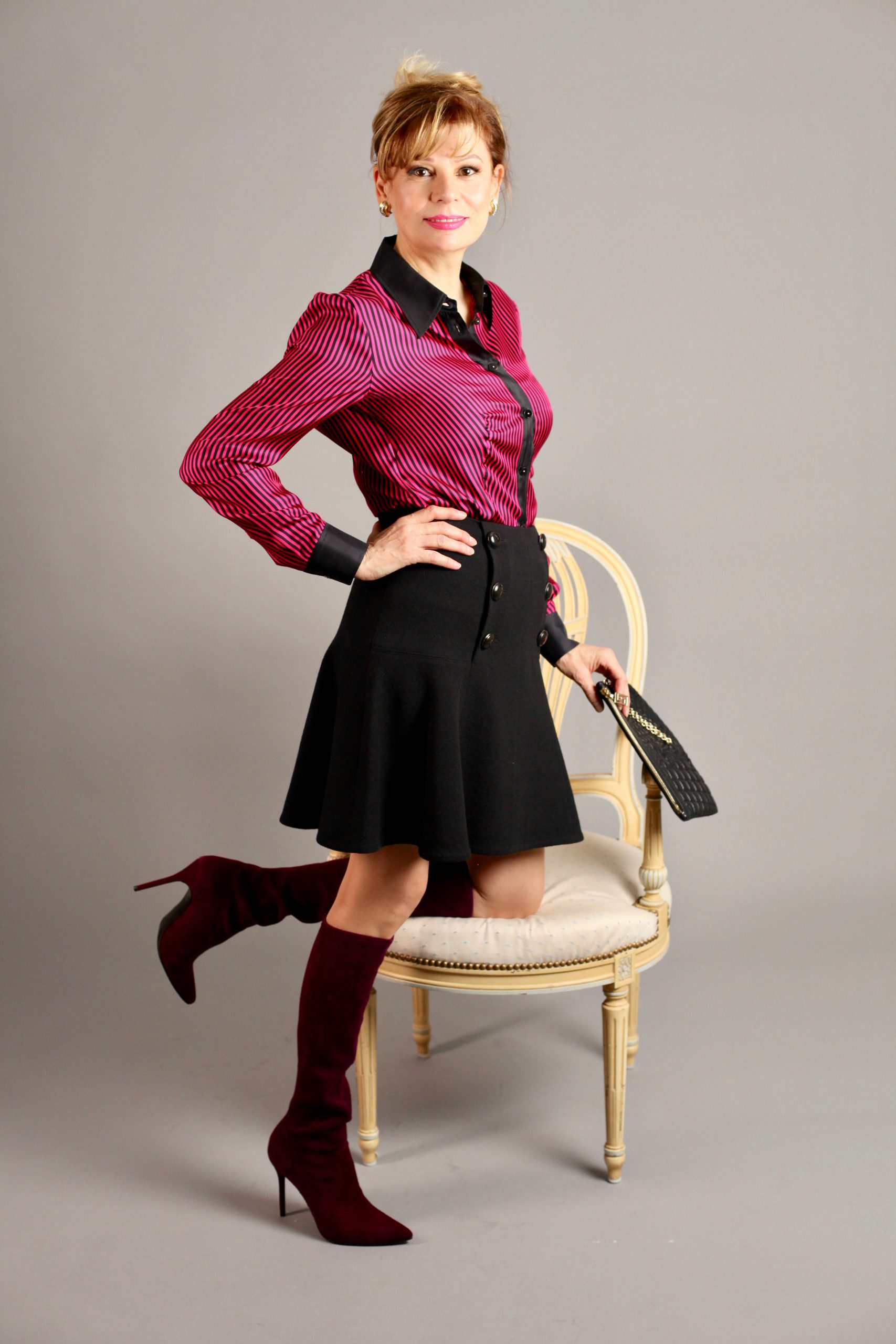 Seven League Boots
If a great pair of shoes can take on magical powers for the woman who wears them – as it happened with Cinderella – this certainly holds true for boots! Because: While shoes will let a woman find her grounding in the world, seven-league boots allow the person wearing them to take strides of seven leagues per step – as European legends try to teach us. 
The expression Seven-League Boots is first recorded in the period 1805-1815, translated from French "Bottes de Sept Lieues" in the fairy tale of Charles Perrault "De Petit Poucet".
The legendary boots are mentioned among others in Germany – Goethe's "Faust" , in France – Marcel Proust's in "Search of Lost Time", in Norway  – Peter Christen Asbjornsen  and Jorgen Moe in  Soria Moria Castle, in Britain – George Eliot's in "The Mill on the Floss", in United States – Mark Twain's in "The Innocents Abroad".
A league, roughly 3 miles or 4,8 km, was considered the distance that an average man could walk in an hour. 
I remember my grandma telling me that in the beginning of the 20 Century , in the rural area, people walked from 10 to 20 km from one village to another. For an average man that would mean to walk for approximately  two to four hours.
 A similar fascinating item called "capogi-skoroxodi"- pace boots, can be found in the Russian Folklore, that allows the person wearing them to walk and run at an amazing pace.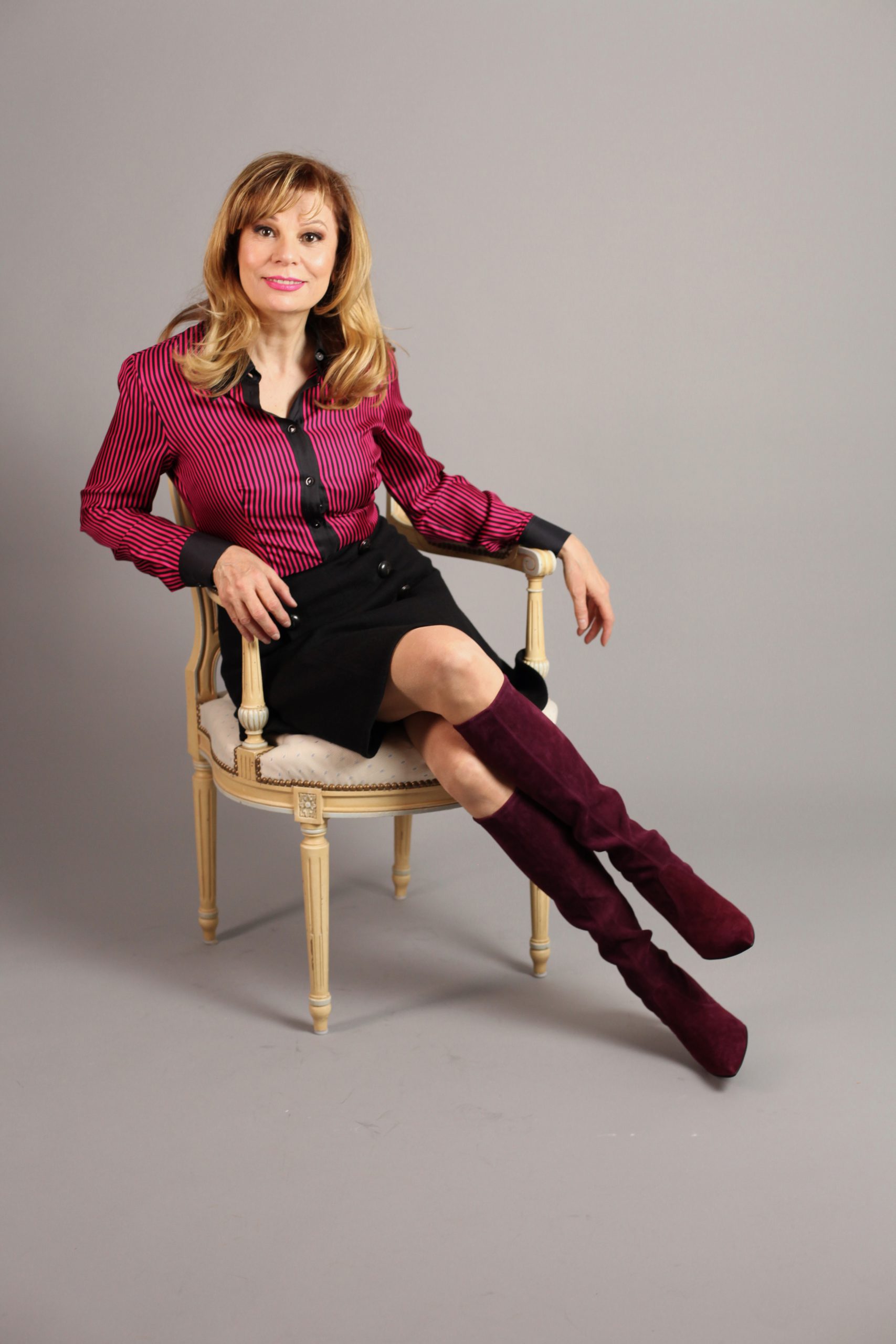 Silk Shirt, Mini Skirt, Suede Boots and a Black Clutch
I enjoy combining matching colours: here my boots  in burgundy with the silk shirt in burgundy and black stripes. I love silk, it gives you a luxury feeling when wearing and you can combine it with so many other clothes in different fabrics, in this case with a wool mini skirt. Not too many accessories, just a simple black clutch and the look is ready.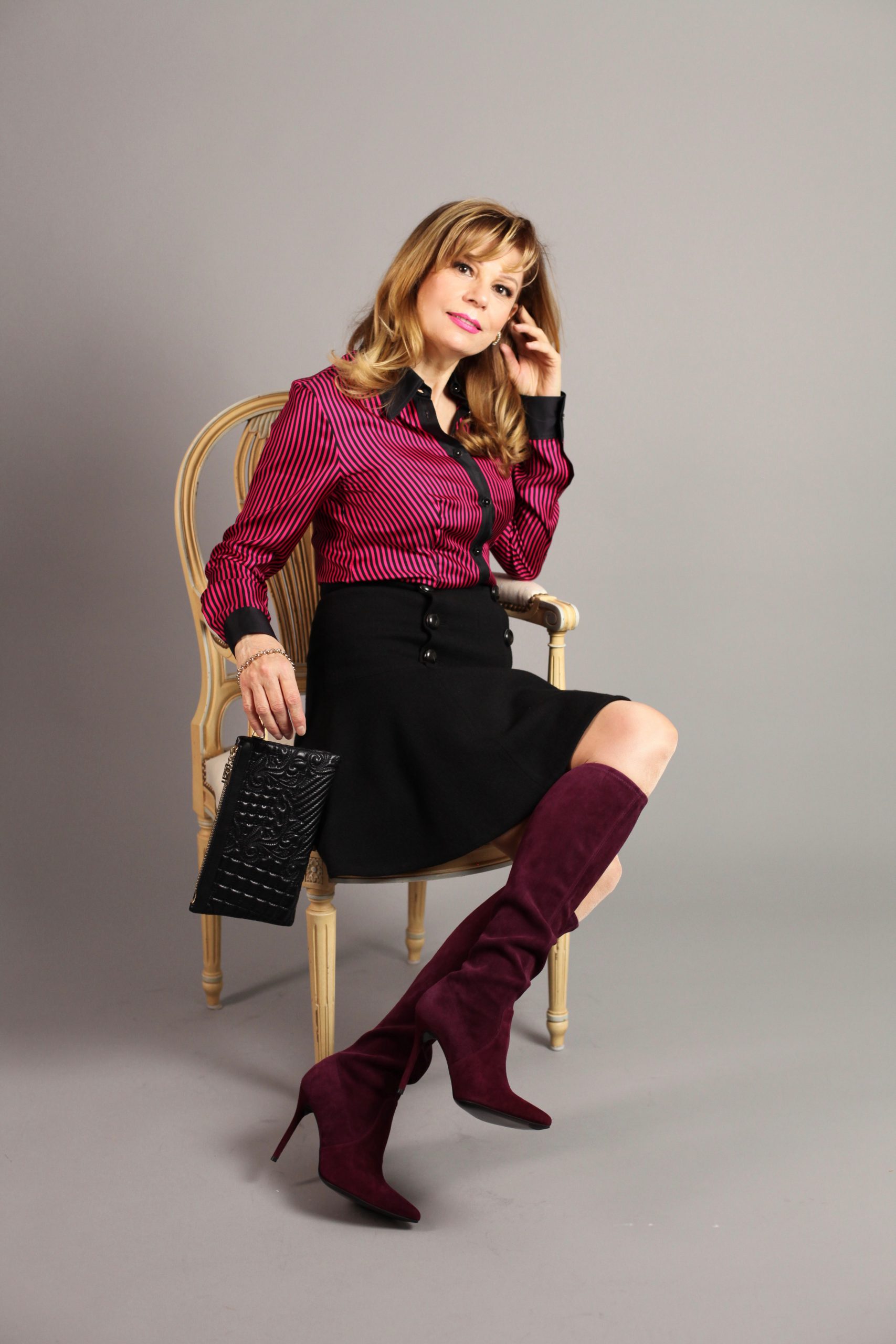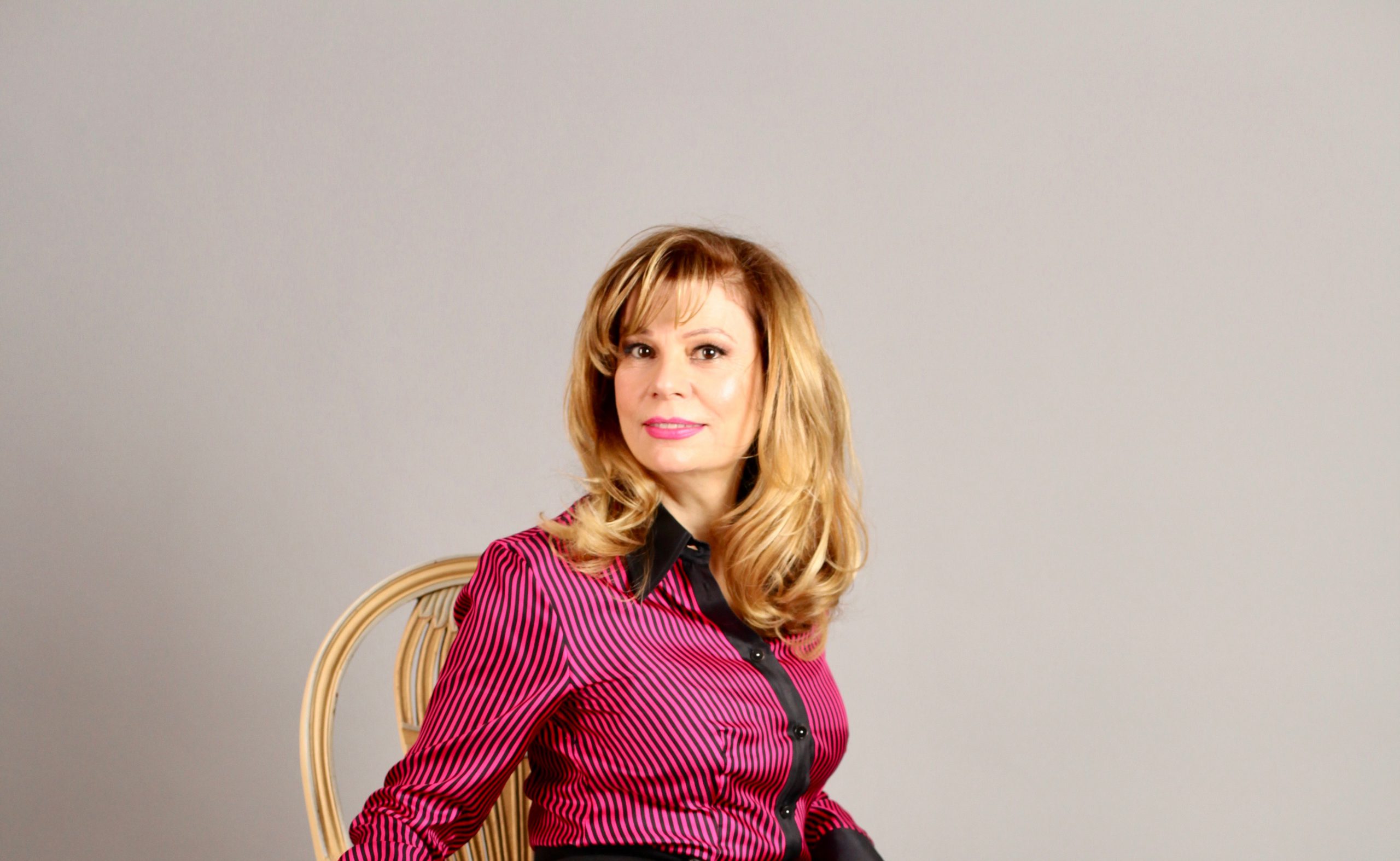 Women Shirts
A woman's shirt looks like a classic men's shirt with a full button-down opening. A shirt is a more formal garment, it is especially a clothing with a collar and sleeves with cuffs.
Originally, until the twentieth century, the shirt was only worn by men as underwear . In the Medieval, the shirt was a plain, uncoloured garment and worn next to the skin .  The paintings in that period, show the shirt only on shepherds, prisoners, etc. In the sixteenth century, it was fashionable to wear men's shirts with embroidery or  lace at the neck and cuffs . 
In the seventeenth century, men's shirts were allowed to be visible. In the eighteenth century, men were wearing shirts with long neck frills or jabots. The coloured shirts only appeared in the early nineteenth century and were actually casual clothing, for lower-class workers. We have to wait until 1920 that a sky-blue shirt becomes a standard clothing  for men. 
For women, it is 1860 that shirts are popularised by Empress Eugénie of France. Today they are an integral part of our closet. We like them in cotton, silk, plaid, soft, crisp, stiff, dressy, tailored, fluid or oversized with ruffles and flounces for a more feminine touch.
How to dress? Shirts  look better on women with a smaller bust and regular shoulders. They also look well on a longer neck. For women with a larger bust, it is preferable to wear it very fluid or oversized. Shirts are often gaping at the bust, so take them one size bigger.
Do you know this idiom "To give the shirt off one's back"? It appears in 1771 and means greatest desperation or generosity and is still used today. 
Silk Shirt
Black Wool Mini Skirt
Suede Knee-High Boots
Black Leather Clutch
YOU MAY ALSO BE INTERESTED IN:
MY NUMBER 2 OF FOUR AMAZING BOOTS
https://www.mypreferredpieces.com/number-2-of-my-incredibly-beautiful-boot/